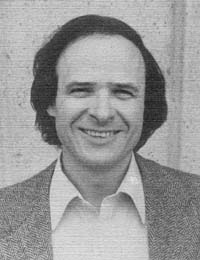 Going After Cacciato
TIM O'BRIEN
MONDAY, OCTOBER 23, 1989
Tim O'Brien received the 1979 National Book Award in fiction for his novel, Going After Cacciato (1978). His other books are If I Die in a Combat Zone, Box Me Up and Send Me Home (1973), Northern Lights (1975), and the Nuclear Age (1985). He is the author of many short stories, and one of them was selected for the 1987 Best American Short Stories.

A native of Worthington, Minnesota, O'Brien graduated in 1968 from Macalester College in St. Paul. He served as a foot soldier in Vietnam from 1969 to 1970, after which he pursued graduate studies in government at Harvard University. He later worked as a national affairs reporter for The Washington Post. He presently lives in Massachusetts and devotes full time to his fiction. His forthcoming book, The Things They Carried, is due out in March.

If you would like to join Tim O'Brien at the Athenaeum for dinner, please return the attached coupon. The lecture begins at 7:00 p.m., following a 5:30 reception and dinner.