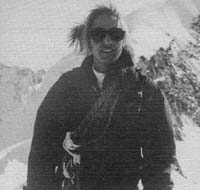 First Woman to Ski to the South Pole
SHIRLEY METZ
TUESDAY, OCTOBER 24, 1989
To refocus the remarks by Ann Bancroft, the first woman to go overland to the North Pole, the Athenaeum is pleased to present Shirley Metz, the first woman to ski to the South Pole. After graduating from the University of Hawaii, she worked for three years as a professional scuba diver in shark research with the University of Hawaii's oceanography department. Upon moving to California, Ms. Metz became an owner and developer of Hobie Sports. She also works as a staff writer for Action Sports and Outdoor Retailer magazines, and is the producer and anchorwoman for an educational cable television program in Orange County.

In January 1988 she traveled to Antarctica and produced an educational film about the continent and its wildlife. Later that year she went on a 750-mile, two-month expedition to the South Pole, becoming the first woman to reach the South Pole by overland travel. She is also among the six first Americans to reach the pole. On March 12, 1989, the Soviet Union awarded Ms. Metz with the prestigious Polar Award, making her the first woman in Soviet history to receive this distinction. She is currently editing the film footage of the expedition, writing a book, and continuing to give presentations about her journey, as well as addressing environmental issues related to Antarctica. She recently returned from New Zealand where she helped promote an international radio campaign, "Save the Future."

If you would like to join Shirley Metz at the Athenaeum for an inspirational lecture, please return the attached coupon. Remarks begin at 7:00, following a 5:30 reception and 6:00 dinner.