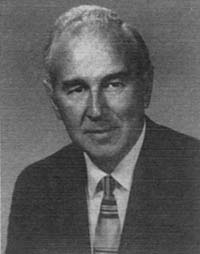 Managing Our Relations with Russia
MALCOLM TOON
WEDNESDAY, NOVEMBER 1, 1989
How should the United States respond to recent
changes within the Soviet Union? Will an economically stronger Russia pose a significantly greater threat
to our country? What can the Bush administration do to
improve relations between the two superpowers, without jeopardizing national security? These important
questions can only be answered by someone with rare insight into the intricacies of superpower politics gained
through high-level experience. The Athenaeum and the Gould and Keck centers host the former American
ambassador to the Soviet Union during the Nixon and
Carter administrations, Malcolm Toon.
Prior to his appointment as ambassador to the
U.S.S.R., Mr. Toon served as ambassador to Israel,
Yugoslavia, and Czechoslovakia. Previous service includes assignments to U.S. embassies in Warsaw,
Budapest, Rome, London, Moscow, and the Department of State as the director of Soviet affairs and deputy
assistant secretary of state for European affairs.
Mr. Toon is a graduate of Tufts University, with
advanced study at The Fletcher School of Law and
Diplomacy, Middlebury, and Harvard. He has received
the State Department's Superior Honor Award.
With his distinguished background and global experience, Mr. Toon promises to be both thought-provoking and informative. His lecture in McKenna Auditorium
begins at 7:00 p.m., following a 5:30 reception and 6:00
dinner. If you would like to attend the dinner, please return the attached coupon.