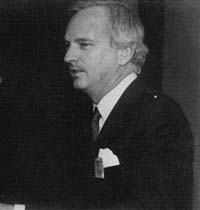 The Heart of the Deal: LBOs and Corporate America
GEORGE ROBERTS '66 P'93
THURSDAY, NOVEMBER 2, 1989 4:00 p.m., McKENNA AUDITORIUM
George Roberts
, founding partner in the investment banking firm Kohlberg Kravis Roberts & Co., delivers a talk
entitled "The Heart of the Deal: LBOs and Corporate America," on Thursday, November 2, at 4:00 p.m. in
McKenna Auditorium.
Roberts graduated cum laude from Claremont McKenna College in 1966, and earned his law degree from Hastings
School of Law. In 1976 Roberts, Henry Kravis '67, and Jerome Kohlberg left Bear Stearns & Co. to form Kohlberg Kravis
Roberts & Co. KKR has since become the world's leading specialist in leveraged buyouts. Among KKR's major
acquisitions are Safeway Stores, Duracell Batteries, Beatrice Foods, Motel 6, and R.J. Reynolds/Nabisco.
Roberts is a trustee of Claremont McKenna College.