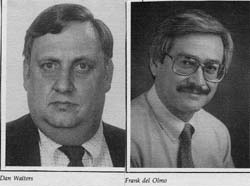 Local Representation
DAN WALTERS
FRANK DEL OLMO
THURSDAY, NOVEMBER 2, 1989
Dan Walters
, a long-time California journalist and author of
The New California: Facing the 21st Century
(1986), will serve on a press panel at the Rose
Institute Board of Governors' dinner, following a day-long conference on local representation. Mr. Walters joined
the
Sacramento Union's
capitol bureau in 1975 and eventually became bureau chief. In 1984 he moved to the
Sacramento Bee
. His column on California politics appears in
newspapers throughout the state.
Joining Mr. Walters on the panel is Frank del Olmo.
An editorial writer for the Los Angeles Times, Mr. del
Olmo received his B.A. in journalism from Cal State
Northridge, where he was both overall outstanding
graduating senior and outstanding graduating senior in
journalism. He received the Pulitzer Prize gold medal
for meritorious public service for his series, "Southern
California's Latino Community." The dinner is not open
for reservations, but individuals are urged to attend the
panel discussion, which begins at 7:00.