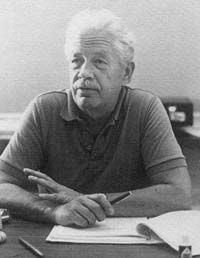 Poland 1989: Democracy Triumphant?
ANDRZEJ KORBONSKI
WEDNESDAY, NOVEMBER 8, 1989
Dr. Andrzej Korbonski, a distinguished Polish-American scholar, is the first speaker in the Keck Center and Marian Miner Cook Athenaeum lecture series entitled "The Future of Communism in Europe and Asia."

Dr. Korbonski was born and raised in Poland. During the Second World War he joined the Polish underground army to fight against Nazi Germany and spent a year in a prisoner of war camp in Germany. After the war he received his BS degree in economics from the University of London and his PhD in public law and government from Columbia University.

Presently Dr. Korbonski serves as director of the prestigious Center for Russian and East European Studies and is a professor of political science at UCLA. He is also the co-director of the RAND-UCLA Center for the Study of Soviet International Behavior.

During his most recent visit to Warsaw last August and September, he observed the historic unfolding of Poland's domestic and foreign affairs.

His speech begins at 7:00, preceded by a 5:30 reception and 6:00 dinner.