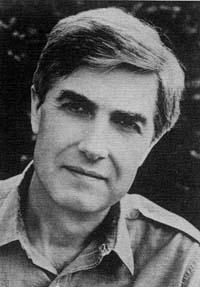 A Bright Shining Lie: John Paul Vann and America in Vietnam
NEIL SHEEHAN
MONDAY, NOVEMBER 13, 1989
Widely acclaimed for his controversial and truthful coverage of the Vietnam War during his years in Saigon as bureau chief for United Press International and later as correspondent for The New York Times, journalist Neil Sheehan has remained obsessed with the paradoxes of the United States' involvement in the Vietnam War. It took 16 years for Mr. Sheehan to write A Bright Shining Lie: John Paul Vann and America in Vietnam (1988), which has been called the most important book ever written about Vietnam.

Neil Sheehan graduated from Harvard in 1958. Following graduation, he served in the U.S. Army for three years, working as a newsman in Korea and Tokyo. Upon leaving the army in 1962, he took a full-time job with UPI in Vietnam, becoming the Saigon bureau chief and their third, full-time American correspondent. There he learned to develop his own sources, rather than taking official statements at their face value, and often accompanied troops into battle to gain first-hand information. Lt. Col. John Paul Vann, on whom Sheehan would later focus A Bright Shining Lie, offered outspoken views about the established military policy; Vann was a valuable source of information to the news correspondents covering the war.

In 1971 Sheehan played a role in the publication by The New York Times of the Pentagon Papers, which elucidated the history of American involvement in Vietnam from 1945 to 1967. Although the Times received the Pulitzer Prize, in the public service category in 1972, for the publication of the papers, Sheehan received no recognition for his role. In 1973 Neil Sheehan took a three-year leave of absence from The New York Times to write A Bright Shining Lie. He received numerous fellowships to fund his work, including a Guggenheim fellowship, a Rockefeller Foundation fellowship, and a fellowship from the Woodrow Wilson International Center for Scholars. Critics were effusive in their praise of A Bright Shining Lie, citing its immense power. For his work Sheehan won the Pulitzer Prize, the National Book Award in nonfiction, and the Robert F. Kennedy Book Award.

Although he sees the Vietnam War as a tragic mistake, Sheehan believes that America's involvement might have prevented a greater tragedy later on. Unlike earlier American soldiers, "the Vietnam veteran brought home a different kind of wisdom. He learned that you can fight a bad war, that you can get killed for nothing, that it's a complicated world. This wisdom is necessary to a country over the long run. In that sense, Vietnam can be a very good experience for America, and to some extent it already has been."

If you would like to join Neil Sheehan for a 5:30 reception and 6:00 dinner, please complete and return the attached coupon to the Athenaeum. The lecture begins at 7:00.