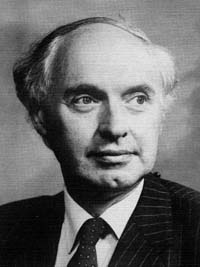 Russia and Eastern Europe in Turmoil: The Future of Western Policies
ROBERT O'NEILL
TUESDAY, JANUARY 16, 1990
The Athenaeum joins the Keck Center and the Gould Center in continuing the timely series, "The Soviet Union Today and Tomorrow: A Time for New Thinking."

An expert on strategic studies and international diplomacy, Robert O'Neill discusses the fast-paced changes in Eastern Europe and responses by Western nations. His talk, titled "Russia and Eastern Europe in Turmoil: The Future of Western Policies," kicks off the second semester's part of this series on the Soviet Union.

Born in Australia in 1936, O'Neill was educated at the Royal Military College of Australia and the University of Melbourne, graduating in engineering. As a Rhodes scholar at Brasenose College, Oxford, O'Neill read philosophy, politics, and economics. Currently a professor of the history of war at Oxford, O'Neill fought in Vietnam as an infantry captain for the Australian Regular Army and served as director of the International Institute for Strategic Studies from 1982 to 1987. In that role he focused on analysis of security problems in developing regions.

In addition to a busy lecture schedule. Dr. O'Neill has edited numerous books on the subject of East- West relations, including The Strategic Nuclear Balance: An Australian Perspective (1974), The Conduct of East-West Relations in the 1980's (1985), and Doctrine, Alliance, and Arms Control (1987). Dr. O'Neill was also commissioned by the Australian government to write a full history of Australia's participation in the Korean War.

Sign-ups are due by Monday, January 15, if you wish to attend the reception and dinner before the 7:00 address.