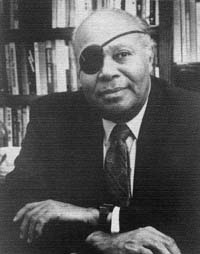 Martin Luther King, Jr. Birthday Remembrance
JAMES FARMER
THURSDAY, JANUARY 18, 1990
The Marian Miner Cook Athenaeum is proud to present James Farmer as the Martin Luther King, Jr. birthday speaker. Founding director of the Congress of Racial Equality (CORE), Farmer is the only surviving member of the "Big Four" civil rights leaders of the 1960s. He was a participant and organizer of many freedom rides, one of which resulted in a 40-day incarceration. A firm believer in Gandhi's policy of nonviolence. Dr. Farmer has often been entangled in violence. He escaped a lynch mob and an assassin, and he survived a death warrant issued by the Ku Klux Klan. He personally investigated the 1964 murders of the three CORE volunteers in Mississippi; the story of those murders is the basis for Mississippi Burning (1988).

Dr. Farmer's devotion to the civil rights movement is unending. Anytime Americans thought that the nation had solved its race problem in the 1950s or 1960s. Dr. Farmer says, "we woke up to the fact that we were suffering from an illusion . . . the problem remains." According to Dr. Farmer, the black movement now faces a lack of centralization. Illiteracy, joblessness, drug abuse, teen pregnancy, and inadequate housing are among the issues that Dr. Farmer believes need to be addressed. Affirmative action is one solution that Dr. Farmer believes can work.

Dr. Farmer is a professor of history at Mary Washington College in Virginia. His experiences in the civil rights movement are recorded in his autobiography, Lay Bare the Heart: An Autobiography of the Civil Rights Movement (1985). He is currently working on a book about where the movement will go next.

The lecture begins at 7:00, following a 5:30 reception and 6:00 dinner. Please return the enclosed meal reservation, if you wish to attend.