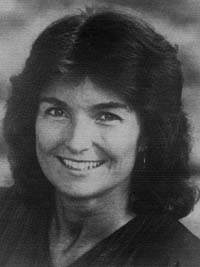 The Naked Truth: Advertising's Image of Women
JEAN KILBOURNE
WEDNESDAY, JANUARY 24, 1990
The ad shows a casually dressed man, one hand in his pocket, the other holding onto the leg of a scantily clad woman lying on her back at his feet. The caption reads: "Cotler's Pants-For the Right Stance."

It is only one of many slides to be shown by Jean Kilbourne, an expert on sexism in advertising, during her Athenaeum visit. Dr. Kilbourne, a visiting scholar at Wellesley College, discusses how advertisements are often a powerful form of cultural conditioning. Specifically, she will address the stereotypes of the demented housewife, the fierce and unfeeling man, the playboy, the superwoman, the seductive little girl, and the male sex object. Dr. Kilbourne's presentations have delighted audiences at colleges, community groups, and businesses nationwide.

Dr. Kilbourne comes to the Athenaeum with a message: "Advertising does serve to sell products, but advertising also serves to sell values. It offers products as a solution to life's problems. It tells us that happiness can be bought."

Return the enclosed reservation form, if you wish to attend the dinner and reception before the 7:00 address.