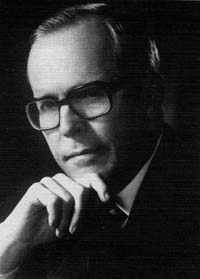 The Twilight of the Enlightenment?
WILLIAM RUSHER
THURSDAY, JANUARY 25, 1990
A major conference, "The Ambiguous Legacy of the Enlightenment," will be held January 25-27 on the campuses of Claremont McKenna College and Claremont Graduate School. Co-sponsored by the Henry Salvatori Center for the Study of Freedom in the Modern World and the Claremont Institute for the Study of Statesmanship and Political Philosophy, the conference addresses the roots of the Enlightenment, and its philosophical, theological, and political significance.

A keynote dinner will be held on Thursday, January 25, at 6:00 p.m. in the Marian Miner Cook Athenaeum, preceded by a 5:30 p.m. reception. The speaker will be William A. Rusher. A leading figure in the American conservative movement for more than 30 years, as a syndicated columnist, television commentator, and publisher of National Review, Mr. Rusher recently became a Claremont Institute senior fellow. He speaks on "The Twilight of the Enlightenment?"

Six panels will follow, on Friday in Albrecht Auditorium (CGS), and on Saturday in Davidson Lecture Hall (CMC). Participants include Richard John Neuhaus (Institute on Religion and Public Life), Ernest van den Haag (Fordham University), John Gray (Oxford University), Jerry Weinberger (Michigan State University), Thomas Pangle (University of Toronto), Eva Brann (St. John's College-Annapolis), Ralph Lemer (University of Chicago), Ernest Fortin (Boston College), Ellis Sandoz (Louisiana State University), and Gerhard Niemeyer (Notre Dame University).

Please fill out the enclosed reservation form, if you wish to attend the reception and dinner preceding Mr. Rusher's address.

For further information, contact the Henry Salvatori Center (621-8201).