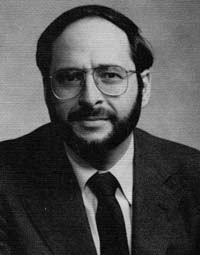 China
JONATHAN POLLACK
TUESDAY, FEBRUARY 20, 1990
The Keck Center for International Strategic Studies and the Marian Miner Cook Athenaeum are pleased to continue the lecture series on "The Future of Communism in Europe and Asia." The second speaker this semester is a distinguished China scholar, Dr. Jonathan D. Pollack, who will present a lecture titled "China." He serves as chairman of the Department of Political Science at the RAND Corporation, the internationally renowned "think tank" in Santa Monica.

Dr. Pollack was born in New London, Connecticut, and was educated at Rutgers College and the University of Michigan, from which he received his doctoral degree in 1976. For the following two years, he was a research fellow of the John King Fairbank Center at Harvard University. In 1978 he joined the RAND Corporation.

Dr. Pollack has written extensively on China's foreign affairs and defense policy. His publications include Sino-Soviet Rivalry and Chinese Security Debates (1983), Military Power and Policy in Asian States (1980), and Security, Strategy, and Logic in Chinese Foreign Policy (1981). He has visited China on numerous occasions, including the summer of 1989. A 5:30 p.m. reception and 6:00 p.m. dinner precede Dr. Pollack's lecture. Please fill out the enclosed reservation form, if you wish to attend the reception and dinner.

For further information, contact the Keck Center (621-8213).