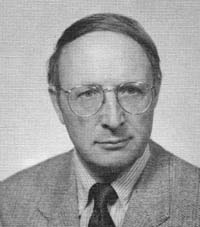 Reform of Leninist States: Comparing Reform in China and the Soviet Union
THOMAS BERNSTEIN
THURSDAY, FEBRUARY 15, 1990
The Keck Center for International Strategic Studies will hold a conference on "State and Society in China: The Consequences of Reform, 1978-1990." The conference assembles leading authorities on various aspects of contemporary China to analyze the underlying changes that have taken place in China since the death of Mao. The conference takes place in the Bauer Center Founders Room on February 16-17.

The Marian Miner Cook Athenaeum and the Keck Center will co-host a keynote dinner for the conference in the Athenaeum at 6:00 p.m., preceded by a 5:30 p.m. reception. Thomas P. Bernstein, professor of political science, East Asian Institute, Columbia University, will speak on "Reform of Leninist States: Comparing Reform in China and the Soviet Union." Bernstein is a well-established scholar of contemporary communism and rural reform.

Please fill out the enclosed reservation form, if you wish to attend the reception and dinner preceding Dr. Bernstein's address.

For further information on the conference, contact the Keck Center (621-8213).