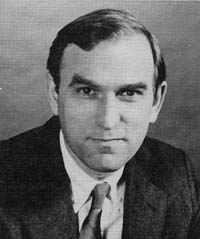 U.S. Policy in Latin America
ELLIOTT ABRAMS
TUESDAY, FEBRUARY 20, 1990 4:00 p.m. PICKFORD AUDITORIUM
Elliott Abrams is an attorney who has practiced law in both New York and Washington, D.C. He spent four years in the 1970s working for the United States Senate: as assistant counsel to the Senate Permanent Subcommittee on Investigations in 1975; as special counsel to Sen. Henry M. Jackson in 1975-76; and as special counsel and then chief of staff to Sen. Daniel P. Moynihan from January 1977 to June 1979.

In January 1981 Mr. Abrams became assistant secretary of state for international organization affairs. In December of that year, he was sworn in as assistant secretary of state for human rights and humanitarian affairs. In July 1985 Mr. Abrams was appointed assistant secretary of state for inter-American affairs, where he supervised U.S. policy in Latin America and the Caribbean until January 1989. Mr. Abrams was a leading supporter of the contra movement. In August 1988 Mr. Abrams received the secretary of state's Distinguished Service Award for his work in the department.

Elliott Abrams received his B.A. degree from Harvard College in 1969, his master's degree in international relations from the London School of Economics in 1970, and his J.D. from Harvard Law School in 1973. Mr. Abrams presently practices law in Washington, D.C., where he lives with his wife, Rachel, and their three children.

Mr. Abrams' address begins at 4:00 at Pickford Auditorium (formerly Bauer Auditorium). No sign-ups are necessary, because there will not be an Athenaeum dinner. Plan to attend this up-to-date presentation on U.S. policy in Latin America.