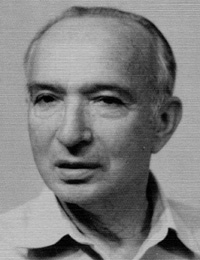 Israel Today
PTACHIA SHAMIR
TUESDAY, FEBRUARY 27, 1990 12:00 p.m.
The Foundation for California, the Keck Center for International Strategic Studies, and the Marian Miner Cook Athenaeum are pleased to present Ptachia Shamir, one of the founding fathers of the state of Israel. Among his many accomplishments in a life filled with historic milestones, Mr. Shamir co-founded the Herut-Likud party with another of Israel's founding fathers and former prime minister, Menachem Begin.

Born in Poland in 1920, Mr. Shamir migrated to Israel before the outbreak of World War II. In 1938 he joined the underground organization, IRGUN, fighting for independence against British rule. In 1939 he was sentenced by a British military court to five years in prison for underground activity, during which time he gave himself a general education and learned several languages. During Israel's War for Independence in 1948, he gained the rank of commander of the IRGUN in Tel-Aviv, and led the liberation of the city of Jaffa.

After the establishment of Israel, Mr. Shamir joined Menachem Begin in founding the Herut movement, and in 1987-88 served as director general of the Herut-Likud party. Shamir is popularly known as the spiritual founder of Likud and the top-most adviser to Likud prime ministers. He is also one of the few remaining members of the founding generation of Israeli leaders and, thus, a living embodiment of the modern history of an ancient people.

Founder, president, and chairman of Youth Towns of Israel, he presides today over an organization that educates thousands of young boys and girls to be useful citizens of Israeli society. He is the father of two sons, both of whom are high-ranking officers in the Israeli Army.

Lunch begins promptly at noon, and Mr. Shamir begins speaking at 12:20 p.m. Please join us for lunch by filling out and returning the reservation form.