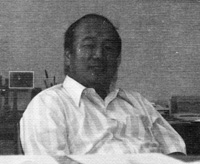 North Korea in the Post-Kim Il Sung Era
DAE-SOOK SUH
MONDAY, MARCH 5, 1990
The Keck Center for International and Strategic Studies and the Marian Miner Cook Athenaeum are pleased to sponsor Dr. Dae-Sook Suh's lecture on "North Korea in the Post-Kim Il Sung Era." This is part of the continuing lecture series on "The Future of Communism in Europe and Asia."

Dae-Sook Suh is an internationally recognized specialist on North Korean affairs. He has visited North Korea on several occasions; his most recent visit took place last September. He received his doctoral degree from Columbia University in 1964. He is professor of political science and director of the Center for Korean Studies at the University of Hawaii.

Dr. Suh has written notable books and articles on North Korea, including Kim Il Sung: The North Korean Leader (1988), The Korean Communist Movement, 1918-1948 (1967), and Korean Communism: A Reference Guide to the Politidcal System (1981). Kim Il Sung is widely acclaimed as the best study ever written on the North Korean leader.

The lecture begins at 7:00 and is preceded by a 5:30 reception and 6:00 dinner. If you wish to attend the reception and dinner, please fill out and return the reservation form. For further information about the lecture or lecture series, contact the Keck Center at 621-8213.