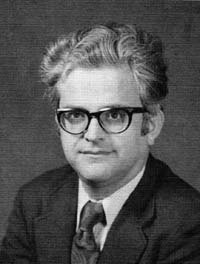 The Future of Eastern Europe
CHARLES GATI
THURSDAY, MARCH 29, 1990
The Keck Center for International and Strategic Studies and the Marian Miner Cook Athenaeum are pleased to present the final speaker in the lecture series "The Future of Communism in Europe and Asia." Dr. Charles Gati discusses "The Future of Eastern Europe" at the Athenaeum on March 29.

Born in Budapest, Hungary, in 1934, he left his home in 1956. He subsequently received his doctoral degree from the University of Indiana. Dr. Gati is professor of political science at Union College. From 1971 to 1988 he was a senior research fellow at Columbia University's Research Institute on International Change, teaching courses on Soviet-East European relations at Columbia's Harriman Institute for Advanced Study of the Soviet Union as well.

His latest book, Soviet-East European Relations in Transition, will be published this spring. His published works include Hungary and the Soviet Bloc (1986), The Debate over Détente (1977), and The International Politics of Eastern Europe (1976).

He is a frequent guest on such TV programs as "MacNeil/Lehrer News Hour," "Nightline with Ted Koppel," and "This Week with David Brinkley."

The lecture begins at 7:00 p.m. and is preceded by a 5:30 reception and 6:00 dinner. If you wish to attend the reception and dinner, please fill out and return the reservation form.