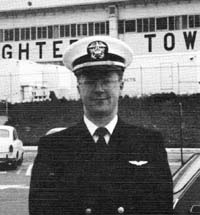 You're in the Navy Now: Life After CMC
DAVID McALEXANDER '87
MONDAY, APRIL 2, 1990
Ensign David McAlexander '87, USN, returns to the Athenaeum on April 2 to share some of his experiences in flight training. He will also address the challenges faced by the U.S. Navy in the changing world of the '90s.

David majored in political science/economics at CMC, and wrote his thesis on naval strategy in the Pacific. He received his commission after attending Aviation Officer Candidate School in Pensacola, Florida, where he was designated a Distinguished Naval Graduate. He currently flies the E-2C Hawkeye with VAW-116, based aboard the U.S.S. Ranger and NAS Miramar.

For those interested in gathering background information, David recommends reading maritime strategy in Proceedings magazine, and consulting the works of strategist Alfred Thayer Mahan.

Please use the enclosed coupon, if you wish to join David McAlexander for the reception and dinner prior to his 7:00 address.