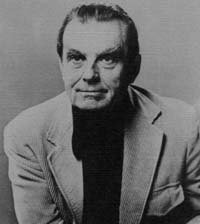 An Evening with Czeslaw Milosz
CZESLAW MILOSZ
WEDNESDAY, MARCH 21, 1990 7:00 p.m.
Czeslaw Milosz, Polish poet, essayist, and novelist, was a leading avant-garde poet in Poland in the 1930s, and participated in the Resistance movement against the Nazis during World War II. After several years in the diplomatic service, he severed his ties with the post-war Polish government and came to America. He now teaches in the Department of Slavic Languages and Literatures at the University of California, Berkeley.

His books of poetry in English translation include Bells in Winter (1978), Selected Poems (1973), The Separate Notebooks (1986), and Unattainable Earth (1986).

Professor Milosz was awarded the Neustadt International Prize for literature in 1978, the Nobel Prize for literature in 1980, and is a member of the American Academy and Institute of Arts and Letters.

The visit of this distinguished poet is sponsored by the Gould Center for Humanistic Studies. There will be a small dinner by invitation only. Everyone is invited to Mr. Milosz' address and reading, which will begin at 7:00 p.m. in Pickford Auditorium.