Athenaeum Location
Print Newsletter
April 4, 1990
Vol. 05, No. 09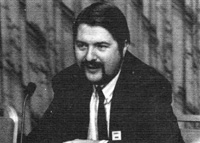 The European Communities' Contribution Toward Global Harmonization of Accounting Standards
KAREL VAN HULLE
TUESDAY, APRIL 10, 1990
The Athenaeum joins the CMC Accounting Program in welcoming Prof. Karel Van Hulle to the campus to present a discussion of "The European Communities' Contribution Toward Global Harmonization of Accounting Standards." Professor Van Hulle will also speak on the general theme of a united Europe in 1992 and the various accounting issues involved in this momentous event.

Professor Van Hulle is an expert in international accounting. He has been a member since 1984 of the Commission of the European Communities, where he works today in the directorate-general with special responsibilities for the harmonization of accounting standards within the European Communities. He is also a member of the Executive Committee of the European Accounting Association. Professor Van Hulle has served as guest lecturer at many universities in Europe and the U.S., and he has written several books and articles concerning accounting law and company law in Belgium and the European Communities.

Please return the enclosed reservation form, if you wish to attend the reception and dinner before the 7:00 address.
Musical Tea: Framework
WEDNESDAY, APRIL 11, 1990
Framework, a vocal jazz ensemble consisting of students from CMC, HMC, and Scripps, will be performing at tea on Wednesday, April 11, at 3:00 p.m.

Join your friends in the Athenaeum courtyard for a pleasant interlude, with good music and Jackie's famous homemade goodies.
Philosophy in Claremont: Past, Present, and Future
STEVE DAVIS
MYRA MOSS
FRED SONTAG
PAUL HURLEY
DION SCOT-KAKURES '79
KIMBERLY MCDONALD '90
WEDNESDAY, APRIL 11, 1990
The Claremont Philosophy Colloquium and the Marian Miner Cook Athenaeum are pleased to sponsor a panel discussion on the topic "Philosophy in Claremont: Past, Present, and Future." A number of Claremont's best-known philosophers from a wide variety of backgrounds will be discussing the role Claremont has played, is playing, and will play in the development and evolution of philosophical ideas.

The panel includes Claremont McKenna professors Steve Davis, who received his doctorate from the Claremont Graduate School, and Myra Moss, who received her B.A. from Pomona College. Pomona College professors Frederick Sontag, who has been teaching at Pomona since 1952, and Paul Hurley, who is a relatively new member of the Claremont community, will also be participating. From Scripps College we welcome Prof. Dion Scott-Kakures, who graduated from CMC in 1979. Finally Kimberly McDonald, a senior at CMC who will be attending graduate school next year, will present her ideas regarding philosophy in Claremont.

The reception at 5:30 will be followed by a 6:00 dinner. The evening's discussion begins at 6:45. Each participant will make a five- to eight-minute presentation. The presentations will be followed by comments and questions from the audience.

This promises to be an interesting and exciting evening, so be sure to return the enclosed reservation form to the Athenaeum as soon as possible.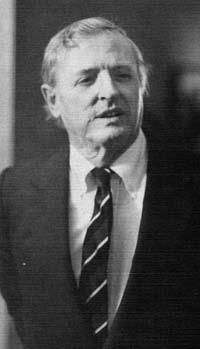 Current Controversies
WILLIAM F. BUCKLEY, JR.
THURSDAY, APRIL 12, 1990
The Marian Miner Cook Athenaeum is proud to present the 1990 commencement speaker, William F. Buckley, Jr., at a special senior class discussion and dinner. Following the dinner, Mr. Buckley will address the college community on "Current Controversies." Mr. Buckley's appearance prior to graduation is made possible by the generosity of a parent of a CMC senior.

A Yale graduate, Mr. Buckley founded the conservative journal National Review in 1955, and now serves as its editor-in-chief. The syndicated column, "On the Right," has earned Mr. Buckley the Best Columnist of the Year and Distinguished Achievement in Journalism awards. Mr. Buckley has perhaps gained the most notoriety as the host of his Emmy Award-winning television show, "Firing Line," where he has hosted virtually every world leader during the past 20 years. Mr. Buckley has also gained recognition for his role as supporter of such presidential candidates as Sen. Barry Goldwater, Richard Nixon, and Ronald Reagan. In 1960 Mr. Buckley helped to establish Young Americans for Freedom.

The author of numerous political texts, such as Up from Liberalism (1959), Four Reforms: A Guide for the Seventies (1973), and The Jeweler's Eye: A Book of Irresistable Political Reflections (1968), Mr. Buckley has also penned several novels. Airborne: A Sentimental Journey (1976) is Mr. Buckley's critically acclaimed account of his crossing the Atlantic in his sailboat in 1975.

Charles Lam Markmann once described Mr. Buckley as "brash..., tricky, skillfully savage, capable of great tenderness, a lover of language and music and color and form and mountains and the sea, a scintillating performer with that precise blend of the aristocratic and the faintly vulgar that virtually no one can resist."

Please join us at McKenna Auditorium at 7:00 for a lecture that will certainly prove interesting.

Seniors are invited to an informal discussion with Mr. Buckley which begins at 4:45 in the Security Pacific Dining Room; this will be followed by a 6:00 dinner. Sign-ups by CMC seniors are required for the meal; please use the enclosed coupon.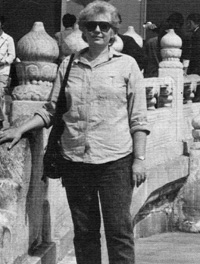 Tiananmen Square
GAIL BUTLER
TUESDAY, APRIL 17, 1990
The Cultural Affairs Committee, Asian Students of CMC, and the Marian Miner Cook Athenaeum are pleased to sponsor Gail Butler, who witnessed the events that occurred during spring 1989 in Beijing, China. Taking time off as president of Houston Foods, Ms. Butler, on a scholarship from the Chinese government, studied at Beijing University. During her trip from April 7 through June 8, 1989, she observed how the movement started, developed, and tragically ended. During this time Ms. Butler photographed the major demonstrations in detail, made numerous trips to Tiananmen, and spoke with many people. Through her experiences she has received a keen understanding of these events. She writes, "My goal is to reach as many people as possible, because that is the commitment I made while in China." On this evening she will share her perceptions and her work with us.

To join us for this photographic journey, please return the attached coupon to the Athenaeum. The 7:00 lecture will be preceded by a 5:30 reception and 6:00 dinner.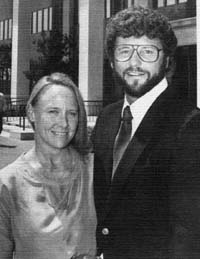 Campus Health Guide: The College Student's Handbook for Healthy Living
CAROL OTIS
ROGER GOLDINGAY
WEDNESDAY, APRIL 18, 1990
The Marian Miner Cook Athenaeum is pleased to present Carol L. Otis, M.D., and Roger Goldingay, authors of Campus Health Guide: The College Student's Handbook for Healthy Living (1989). This new book offers non-judgmental and clearly presented information about a range of health issues that affect young adults, including: nutrition, exercise, common medical problems, dental health, emergencies, sexual health, alcohol and other drugs, and environmental health hazards. The authors' goal is to give students both the information and motivation they need to develop and maintain good health habits. It is only when students know the risk factors they face, say the authors, that they can make choices and changes in their lifestyles early enough to minimize problems and ensure a healthy future.

Dr. Otis graduated from Scripps College in 1971. Presently she is staff physician of the Student Health Service at UCLA and medical director of its Fitness Inventory Testing Program. A graduate of the University of Southern California Medical School, she did her internship and residency at Harvard's Beth Israel Hospital. She has taught at the UCLA Medical School. During the 1984 Olympic Games, Dr. Otis was floor physician for gymnastics.

Roger Goldingay was formerly a professional soccer player for the Seattle Sounders and Portland Timbers. Presently he is a freelance writer, specializing in medical and sports subjects, and a professional photographer. His travels have taken him around the world. He met Dr. Otis in 1980 in the Galapagos Islands. His articles and photographs have appeared in Runner's World, Inside Sports, and many other publications. He and Dr. Otis are married to one another.

The Marian Miner Cook Athenaeum invites you to attend the 5:30 reception and 6:00 dinner preceding the 7:00 lecture. Please fill out and return the enclosed reservation coupon to the Athenaeum.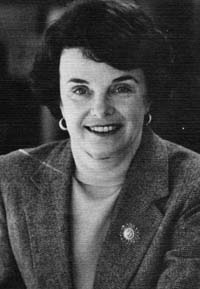 California in the 1990s
DIANNE FEINSTEIN
THURSDAY, APRIL 19, 1990
The Marian Miner Cook Athenaeum is pleased to open the Henry R. Kravis Leadership Conference with a speech by one of California's leading female politicians, Dianne Feinstein. Her speech, "California in the 1990s," addresses the complex issues facing the state as we enter the coming decade.

Currently a candidate for governor, Ms. Feinstein served as the mayor of San Francisco for ten years, from 1978 to 1988. Swept into office after the death of Mayor George Moscone, Feinstein was re-elected twice. During those years Feinstein launched new programs to retain and attract businesses, rejuvenated the Port of San Francisco, and implemented strict controls on commercial development. During her tenure Feinstein confronted the growing AIDS crisis, the homeless, toxic clean-up, affordable housing, and crime. By adding 350 officers to the city's police force, response time was reduced from eight minutes to about two minutes, and serious crime fell by 21 percent in San Francisco.

In her campaign for governor, Feinstein has focused on education, drug abuse, and ethics reform. As the first woman to seriously seek the Democratic nomination for governor, she has stressed her pro-choice stand and her support for the death penalty.

Feinstein graduated from Stanford University.

There will be a reception at 5:30 followed by dinner at 6:00 (this part of the program is open to CMC only), and the public speech is at 7:00 in Bridges Auditorium. If you would like to attend dinner, please return the attached coupon to the Athenaeum. Everyone is welcome to attend the speech.
CMC Student Musical Performances
CELEBRATION OF THE ARTS
WEDNESDAY, APRIL 25, 1990
Come to the Athenaeum as we continue the tradition of celebrating the musical and theatrical talents of CMC students. For the third year in a row, students will play musical instruments, perform Shakespearean soliloquies, and sing for a full hour of entertainment. Don't miss this unique opportunity to celebrate the arts, discover your friends' hidden talents, and enjoy the fine dining that the Athenaeum has to offer.

The celebration was very well received in past years, so be sure to return the attached coupon as soon as possible to save your space for this event. The performances begin at 7:00 p.m., following a 5:30 reception and a dinner at 6:00.
The French Revolution: 200 Years Later
KEITH BAKER
THURSDAY, APRIL 26, 1990
As peaceful revolution continues to sweep through Europe and Latin America, we ought to remember that even the most just and well-intentioned political movements can take sudden and irrational-and sometimes very violent-swings.

In the second installment of its lecture series on the bicentennial of the French Revolution, the Henry Salvatori Center, in cooperation with the Marian Miner Cook Athenaeum, turns to consider this darker side of the greatest of all European revolutions.

On Thursday, April 26, Keith Baker, professor of history at Stanford University and one of the country's foremost scholars of 18th century French intellectual and political life, discusses the significance of the Revolution's descent into totalitarianism and terror. A PhD from University College, London, Professor Baker taught for many years at the University of Chicago before recently moving to Stanford. He is the author of, among other important works, Condorcet: From Natural Philosophy to Social Mathematics (1975) and The Political Culture of the Old Regime (1987).

Professor Baker's lecture begins at 7:00, following a reception at 5:30 and dinner at 6:00. Please use the enclosed coupon to reserve your place.
Director's Report
JIL STARK
It is hard to believe that this is the last Fortnightly of the 1989-90 college year. Thanks to many of you, it has been a very exciting year at the Marian Miner Cook Athenaeum.

During the first semester we hosted the highly successful "The Myths and Realities of the Vietnam War" series. The eight speakers-Le Ly Hayslip, Stanley Karnow, Frances FitzGerald, Seymour Hersh, Tim O'Brien, Ted Post, Ron Kovic, Neil Sheehan, and Robert Scalapino-gave us a vivid picture of this conflict that has affected so many for so long.

Throughout the year we heard from ten speakers who addressed "The Soviet Union Today and Tomorrow: A Time for New Thinking." When this series began in September, few would have predicted what we are witnessing in April. Our guests in this series were: John K. Roth, Lily Golden, Rushworth Kidder, Arthur Macy Cox, James Joseph, Malcolm Toon, Robert O'Neill, Frederick Starr, David Shipler, and James Billington.

Ellen Gilchrist, Ray Bradbury, Carlos Fuentes, Riane Eisler, Jack Miles, and Czeslaw Milosz discussed the author's role in society today.

We studied the future of Communism in Europe and Asia. We viewed the slides of a Himalayan climber, the first woman to reach the South Pole overland, and the first woman to reach the North Pole overland. James Farmer was our Martin Luther King birthday speaker. Eleanor Smeal and Rachel MacNair discussed the abortion issue. Franklin Chang-Diaz vividly told us about his voyage aboard the space shuttle Atlantis. Jean Kilbourne explored advertising's image of women. We have learned about the French Revolution 200 years ago. Susan Estrich told us about the Dukakis campaign. Jack Weatherford discussed the influences of the American Indians. We have hosted conferences on China and on diversity. Suzanne Landolphi discussed AIDS and sex, and what a discussion it was! Yoishi Funabashi spoke on the U.S.-Japan economic entanglement. Dianne Feinstein will be the keynote speaker for the Henry R. Kravis Leadership Conference. William F. Buckley, Jr., our graduation speaker, is coming to the Athenaeum this month for a dinner with seniors and a speech open to all.

The Madrigal dinners, the Evenings in Vienna, the Celebration of the Arts, and the musical teas have brought special meals and music to our lives. The dinner theater, featuring the all-CMC production of You Can't Take It with You, showed us another side of our talented students, as did the wonderfully successful student art show.

This year has indeed been an enlightening one- students, faculty, and the institutes have brought exciting speakers. Our four student fellows-Ann Ela, Robert Goff, Kimberly Lutz, and Michael Shear-have been very busy writing about and introducing more than 60 guests. Our daily teas have brought many of you over for Rice Krispie treats. Numerous classes have hosted their own guests in our smaller dining room.

Each of you reading this Fortnightly can be involved in 1990-91. The ideas for guests can be your ideas, and will help make the Marian Miner Cook Athenaeum a special part of Claremont McKenna College.