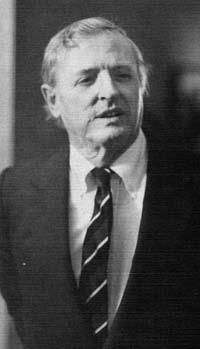 Current Controversies
WILLIAM F. BUCKLEY, JR.
THURSDAY, APRIL 12, 1990
The Marian Miner Cook Athenaeum is proud to present the 1990 commencement speaker, William F. Buckley, Jr., at a special senior class discussion and dinner. Following the dinner, Mr. Buckley will address the college community on "Current Controversies." Mr. Buckley's appearance prior to graduation is made possible by the generosity of a parent of a CMC senior.

A Yale graduate, Mr. Buckley founded the conservative journal National Review in 1955, and now serves as its editor-in-chief. The syndicated column, "On the Right," has earned Mr. Buckley the Best Columnist of the Year and Distinguished Achievement in Journalism awards. Mr. Buckley has perhaps gained the most notoriety as the host of his Emmy Award-winning television show, "Firing Line," where he has hosted virtually every world leader during the past 20 years. Mr. Buckley has also gained recognition for his role as supporter of such presidential candidates as Sen. Barry Goldwater, Richard Nixon, and Ronald Reagan. In 1960 Mr. Buckley helped to establish Young Americans for Freedom.

The author of numerous political texts, such as Up from Liberalism (1959), Four Reforms: A Guide for the Seventies (1973), and The Jeweler's Eye: A Book of Irresistable Political Reflections (1968), Mr. Buckley has also penned several novels. Airborne: A Sentimental Journey (1976) is Mr. Buckley's critically acclaimed account of his crossing the Atlantic in his sailboat in 1975.

Charles Lam Markmann once described Mr. Buckley as "brash..., tricky, skillfully savage, capable of great tenderness, a lover of language and music and color and form and mountains and the sea, a scintillating performer with that precise blend of the aristocratic and the faintly vulgar that virtually no one can resist."

Please join us at McKenna Auditorium at 7:00 for a lecture that will certainly prove interesting.

Seniors are invited to an informal discussion with Mr. Buckley which begins at 4:45 in the Security Pacific Dining Room; this will be followed by a 6:00 dinner. Sign-ups by CMC seniors are required for the meal; please use the enclosed coupon.