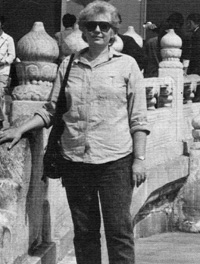 Tiananmen Square
GAIL BUTLER
TUESDAY, APRIL 17, 1990
The Cultural Affairs Committee, Asian Students of
CMC, and the Marian Miner Cook Athenaeum are
pleased to sponsor
Gail Butler
, who witnessed the
events that occurred during spring 1989 in Beijing,
China. Taking time off as president of Houston Foods,
Ms. Butler, on a scholarship from the Chinese government, studied at Beijing University. During her trip from April 7 through June 8, 1989, she observed how
the movement started, developed, and tragically ended.
During this time Ms. Butler photographed the major
demonstrations in detail, made numerous trips to
Tiananmen, and spoke with many people. Through her
experiences she has received a keen understanding of
these events. She writes, "My goal is to reach as many
people as possible, because that is the commitment I
made while in China." On this evening she will share
her perceptions and her work with us.
To join us for this photographic journey, please return
the attached coupon to the Athenaeum. The 7:00 lecture
will be preceded by a 5:30 reception and 6:00 dinner.