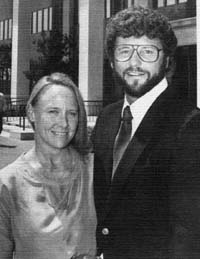 Campus Health Guide: The College Student's Handbook for Healthy Living
CAROL OTIS
ROGER GOLDINGAY
WEDNESDAY, APRIL 18, 1990
The Marian Miner Cook Athenaeum is pleased to present Carol L. Otis, M.D., and Roger Goldingay, authors of Campus Health Guide: The College Student's Handbook for Healthy Living (1989). This new book offers non-judgmental and clearly presented information about a range of health issues that affect young adults, including: nutrition, exercise, common medical problems, dental health, emergencies, sexual health, alcohol and other drugs, and environmental health hazards. The authors' goal is to give students both the information and motivation they need to develop and maintain good health habits. It is only when students know the risk factors they face, say the authors, that they can make choices and changes in their lifestyles early enough to minimize problems and ensure a healthy future.

Dr. Otis graduated from Scripps College in 1971. Presently she is staff physician of the Student Health Service at UCLA and medical director of its Fitness Inventory Testing Program. A graduate of the University of Southern California Medical School, she did her internship and residency at Harvard's Beth Israel Hospital. She has taught at the UCLA Medical School. During the 1984 Olympic Games, Dr. Otis was floor physician for gymnastics.

Roger Goldingay was formerly a professional soccer player for the Seattle Sounders and Portland Timbers. Presently he is a freelance writer, specializing in medical and sports subjects, and a professional photographer. His travels have taken him around the world. He met Dr. Otis in 1980 in the Galapagos Islands. His articles and photographs have appeared in Runner's World, Inside Sports, and many other publications. He and Dr. Otis are married to one another.

The Marian Miner Cook Athenaeum invites you to attend the 5:30 reception and 6:00 dinner preceding the 7:00 lecture. Please fill out and return the enclosed reservation coupon to the Athenaeum.