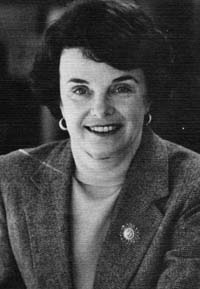 California in the 1990s
DIANNE FEINSTEIN
THURSDAY, APRIL 19, 1990
The Marian Miner Cook Athenaeum is pleased to open the Henry R. Kravis Leadership Conference with a speech by one of California's leading female politicians, Dianne Feinstein. Her speech, "California in the 1990s," addresses the complex issues facing the state as we enter the coming decade.

Currently a candidate for governor, Ms. Feinstein served as the mayor of San Francisco for ten years, from 1978 to 1988. Swept into office after the death of Mayor George Moscone, Feinstein was re-elected twice. During those years Feinstein launched new programs to retain and attract businesses, rejuvenated the Port of San Francisco, and implemented strict controls on commercial development. During her tenure Feinstein confronted the growing AIDS crisis, the homeless, toxic clean-up, affordable housing, and crime. By adding 350 officers to the city's police force, response time was reduced from eight minutes to about two minutes, and serious crime fell by 21 percent in San Francisco.

In her campaign for governor, Feinstein has focused on education, drug abuse, and ethics reform. As the first woman to seriously seek the Democratic nomination for governor, she has stressed her pro-choice stand and her support for the death penalty.

Feinstein graduated from Stanford University.

There will be a reception at 5:30 followed by dinner at 6:00 (this part of the program is open to CMC only), and the public speech is at 7:00 in Bridges Auditorium. If you would like to attend dinner, please return the attached coupon to the Athenaeum. Everyone is welcome to attend the speech.