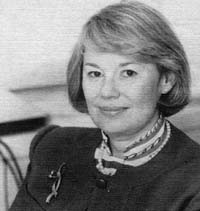 The U.S. Automobile Industry in the 1990s
MARYANN KELLER
MONDAY, SEPTEMBER 17, 1990
Maryann Keller is a highly respected automobile analyst. She is also a widely read columnist for business trade publications and appears regularly on PBS' "Wall Street Week," as well as morning news shows discussing the current state of affairs in Detroit.

Her book, Rude Awakening: The Rise, Fall, and Struggle for Recovery of General Motors, was published by William Morrow and Company in 1989. This book takes a hard look at the once-unparalleled leader of an Industry-General Motors-a company that defines in microcosm American industry in the 1980s and how that industry must approach the 21st century.

Although Ms. Keller is a severe critic of the Big Three-and GM in particular-she frequently speaks before gatherings of Detroit executives. It was she who first warned that the Japanese threat was far more serious than the Big Three were willing to admit.

Maryann Keller is a managing director and automobile analyst with the brokerage firm of Furman Selz Mayer Dietz and Birney, Inc. Prior to that Ms. Keller was a first vice-president at Paine Webber Mitchell Hutchins.

Please join us for an informative evening with Maryann Keller. If you wish to attend the 5:30 reception and 6:00 dinner prior to the address at 7:00, please fill out the reservation form accompanying this Fortnightly.