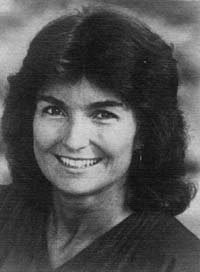 You've Come the Wrong Way, Baby
JEAN KILBOURNE
THURSDAY, SEPTEMBER 27, 1990
More young women are smoking, and cigarette companies are pursuing the gain with advertisements that show smokers as slim, sexy, and attractive. Dr. Jean Kilbourne is a critic fuming about the opportunistic way the advertising media promotes smoking.

This becomes Dr. Kilbourne's third appearance at the Athenaeum. She is an extremely lively and provocative speaker. An internationally recognized authority on the media and sex roles, she has lectured extensively throughout North America and abroad.

She was recently invited by President Bush to assist in the development of a plan to combat the deadly problem of drunk driving in the United States.

Kilbourne received her BA in English literature from Wellesley College and her PhD in education from Boston University. Following her graduation from Wellesley, she spent three years in Europe, working for the British Broadcasting Corporation in London and for a French film company in Paris.

She is a visiting scholar at Wellesley College and is on the board of directors of the National Council on Alcoholism.

Join us at Dr. Kilbourne's address and slide presentation titled "You've Come the Wrong Way, Baby." Your dinner reservation may be made by filling out the enclosed coupon.