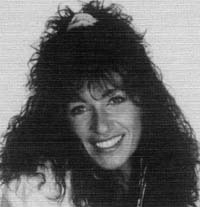 Hot, Sexy, and Safer-Again: Sex in the 90s
SUZI LANDOLPHI
WEDNESDAY, OCTOBER 3, 1990
Once again the Athenaeum is proud to welcome Suzanne Landolphi for an evening of comedy, honesty, and straightforward discussion about the AIDS epidemic. Last October Ms. Landolphi brought to Claremont her zany, yet educational approach to the subject of AIDS and safer sex. We are happy to welcome her again for a night of humor, frankness, veracity, and facts-facts about the AIDS crisis and other sexually transmitted diseases.

It is now estimated that one in every 300 college students is infected with the AIDS virus. We need to get the facts and know the truth about AIDS, and begin to seriously think about how to educate ourselves and others about how not to spread the AIDS virus.

Suzanne Landolphi, of Hot, Sexy, and Safer Productions, brings a fresh, new approach to the discussion of safer sex. Ms. Landolphi has educated high school and college students across the country with her humorous, entertaining, and candid approach. Her extensive experience in theater and television allows her to capture her audience in a very creative and innovative way.

Suzanne Landolphi feels that before we can begin to practice safer sex, we need to talk about it. She does just that-and more. Come join Suzanne Landolphi at the Marian Miner Cook Athenaeum for a truly stimulating and informative evening, beginning with a 5:30 reception and 6:00 dinner. "Hot, Sexy, and Safer-Again: Sex in the 90s" begins at 7:00 p.m.