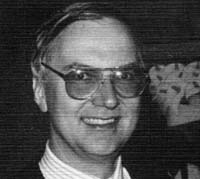 The New European Structure
FRANZ CEDE
THURSDAY, OCTOBER 4, 1990
Dr. Franz Cede, the Austrian consul general, has just returned from a summer in Europe. He is eminently qualified to tell us his first-hand impressions on what is happening in Europe today: the new German structure, the effects of the Middle Eastern crisis, and Austria's place in this new Europe of the 1990s.

Franz Cede was born in Austria in 1945, attended school in Innsbruck, and graduated from the University of Innsbruck Law School. He followed his law degree by studying for two years at the Johns Hopkins School for Advanced International Studies (one year in Bologna, Italy, the second year in Washington, D.C.). In 1972 Mr. Cede joined the Austrian Ministry of Foreign Affairs. He has been assigned in Paris and Rabat and has been the Austrian ambassador to Zaire. He is currently the Austrian consul general in Los Angeles.

Ambassador Cede is the first in a series of speakers sponsored in conjunction with the Keck Center, "The United States and Europe in the 1990s." He will be followed by Peter Gourevitch (also noted in this Fortnightly) and Ladislav Venys from Czechoslovakia on November 8. If you would like to join us for the reception and dinner preceding Dr. Code's address, please use the coupon in this Fortnightly.