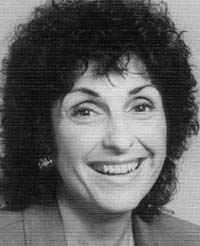 A Democratic View of the November Election
LYNN CUTLER
MONDAY, OCTOBER 8, 1990
The Athenaeum is please to present the vice chair of the Democratic National Committee, Lynn Cutler. Ms. Cutler will speak on the upcoming 1990 elections and give her thoughts about how the results might affect the Democratic party.

As vice chair. Cutler acts as the DNC liaison to statewide and county-elected officials. In her nine years in office, she has worked with these officials to build what she terms a strong "intergovernmental partnership" within the Democratic party. As a former county supervisor in Iowa, Cutler has special insights about the difficulties facing her party's local officials.

In 1977 President Carter appointed Cutler to the U.S. Advisory Commission on Intergovernmental Relations, and in 1978 she became vice chair. Since the beginning of her career. Cutler has been particularly active in national party fundraising, as well as in promoting political activism among students and women.

Vice Chair Cutler's honors are numerous. They include recognition as one of the "Outstanding Women in America," and recently Washingtonian Magazine cited Cutler as one of "Washington's 100 Most Powerful Women."

Ms. Cutler's speech will be preceded by a 5:30 reception and 6:00 dinner. To join us for this event, please fill out the enclosed reservation form and return it to the Athenaeum.