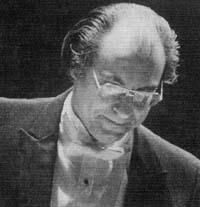 Reformation Canata No. 80 by Johann Sebastian Bach
MICHAEL DEANE LAMKIN, conductor, Claremont Chamber Orchestra and Claremont Chamber Choir
MONDAY, OCTOBER 15, 1990
The Claremont Chamber Orchestra and Chamber Choir, under the direction of Michael Lamkin, bring us the first in a series of musical evenings at the Athenaeum.

The two groups will perform the famous Reformation Cantata no. 80, "Ein feste Burg" ("A Mighty Fortress"), by Johann Sebastian Bach. This cantata was composed in 1730 by Bach and later rewritten by his son, Wilhelm Friedman, to include trumpets and tympani in order to make it more "flashy." The latter edition is the one being used this evening.

Cantata no. 80, opening with a large contrapuntal section for full orchestra and chorus, includes soprano, alto, tenor, and bass solos sung by student musicians.

Michael Lamkin, music director and conductor of the joint music program of the four colleges-CMC, HMC, Scripps, and Pitzer-will make a short presentation on the life of Bach. This will be followed by the cantata, which lasts approximately 20 minutes.

Chef Robert is preparing a special dinner that Bach and his family would have enjoyed.

The program begins at 7:00, following a 5:30 reception and 6:00 dinner.