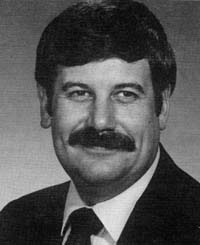 Can Government Manage the Environment?
PETER BONTADELLI
THURSDAY, OCTOBER 25, 1990
The director of California's Fish and Game Department heads the major governmental body that manages the environment for this state. Peter Bontadelli's responsibilities touch on everything from real estate development to the protection of wildlife, from California's water resources to land management.

Mr. Bontadelli is a fourth-generation Californian; he was raised in Salinas. He received his B.A. in political science from the University of California at Davis.

In 1984 Mr. Bontadelli joined the Department of Fish and Game, where his early duties included legislation, review of Environmental Services Branch material, and the coordination of several special task forces, including white bass, San Joaquin Valley drain problems, and threatened and endangered programs. He became director in 1987.

Mr. Bontadelli's address, "Can Government Manage the Environment?" begins at 7:00 p.m. This program is being presented by The John Brown Cook Association. If you would like to join us for the reception and dinner prior to the address, please fill out the reservation coupon.