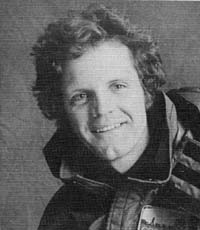 Thawing the Ice Curtain: The Story of Bering Bridge, the Soviet-American Expedition from Siberia to Alaska
PAUL SCHURKE
THURSDAY, NOVEMBER 1, 1990
Motivated by his love for the wilderness and his interest in citizen diplomacy, Paul Schurke set in motion his dreams for the Bering Bridge Expedition and, in the process, helped melt the "Ice Curtain" that divided the United States and the U.S.S.R.

In 1989 Paul Schurke and Soviet explorer Dmitry Shparo, co-led a team of six Americans and six Soviets on a 1,000-mile, two-month ski and dog sled trek from Siberia to Alaska via the treacherous ocean waters of the Bering Strait. Mr. Schurke's involvement in the Bering Bridge Expedition led to a diplomatic accord between the United States and the Soviet Union, and also helped link two dozen remote villages on both sides of the border.

Pres. George Bush and Pres. Mikhail Gorbachev both hailed Mr. Schurke's Bering Bridge journey for helping to strengthen relations and ties between Asia and America. On April 23, 1989, the nine-man, three- woman expedition stood on the sea ice in the middle of the Bering Strait at the International Dateline. Both American and Soviet diplomats joined them at this "global seam," where a protocol was signed that would ease United States and Soviet border restrictions, enabling Bering region natives once again to travel freely across those waters. Mr. Schurke's experience on the expedition is chronicled in his book, The Bering Bridge Expedition-Connecting Cultures and Continents (1989).

Please join us at Mr. Schurke's slide and video presentation titled "Thawing the Ice Curtain: The Story of Bering Bridge, the Soviet-American Expedition from Siberia to Alaska." Your dinner reservations may be made by filling out the enclosed coupon.