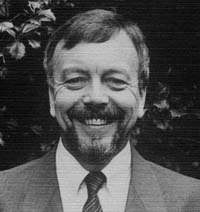 Czechoslovakia in the 1990s
LADISLAV VENYS
THURSDAY, NOVEMBER 8, 1990
Recent reform in Czechoslovakia has brought numerous Czech leaders to the forefront of Western media attention. Among these is Ladislav Venys, present right-hand man to Vaclav Havel, the nation's first democratically elected president in more than 40 years. Since the reconstruction movement began in Czechoslovakia in late 1989, Dr. Venys has acted as a domestic and foreign policy adviser to various parliament and government officials.

Dr. Venys began his academic training at Charles University in Prague as a student in Oriental and English studies. He continued his education at Syracuse University in New York, earning a master's degree in political science and international relations and a certificate in African studies. In 1979 Venys was granted his PhD in Oriental studies from Charles University. Since then. Dr. Venys has served as assistant professor at Charles University, senior sociologist at the Research Institute of Engineering and Industrial Development, and director of the Department of International Relations of TERPLAN, the Czech institute for regional and physical planning. At present. Dr. Venys is establishing a new Center for the Study of Democracy and Free Enterprise at Prague's Charles University.

Our speaker, Ladislav Venys, is amply qualified to talk to us about the current restructuring of Eastern Europe and Czechoslovakia, the issues affecting the present regime, its chances for success and possibilities of failure. Please join us in the discussion of this timely topic by returning the enclosed reservation coupon.