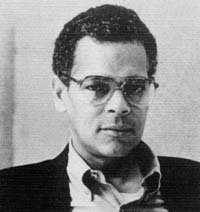 Civil Rights: Yesterday, Today, and Tomorrow
JULIAN BOND
THURSDAY, JANUARY 24, 1991
Dr. Martin Luther King, Jr., was the spokesman for justice, equality, and freedom. He envisioned an America where all people, regardless of race, religion, or creed, could enjoy the freedom America has to offer. Many great women and men continue to carry the dream of Dr. King into the '90s. The Marian Miner Cook Athenaeum is proud to welcome Julian Bond, one of those who has kept the dream alive.

Mr. Bond has been an active participant in the movement for civil rights, economic justice, and peace. During his years at Morehouse College in Atlanta, Georgia, he was very actively involved in the fight for civil rights through the Student Nonviolent Coordinating Committee (SNCC); at Atlanta University, through the Committee on Appeal for Human Rights.

Mr. Bond has served four terms in the U.S. House of Representatives and six terms in the Senate for the state of Georgia. While in the Senate, Mr. Bond was chairman of the Committee on Consumer Affairs and chair of the Fulton County senate delegation. In 1968 he was nominated for vice president of the United States by the Loyalists, Georgia's national delegation to the Democratic convention.

Holding honorary degrees from 14 schools, including Wesleyan University, Howard University, and Syracuse University, Mr. Bond is a highly respected and well- known activist. He has served on the board of directors of the Robert F. Kennedy Memorial Fund, and the Martin Luther King, Jr., Center for Nonviolent Social Change. Mr. Bond was honored as one of Time magazine's "200 Leaders List" and is currently the host of "America's Black Forum." His book of collected speeches has been published under the title A Time to Speak, A Time to Act (1972).

Join us for dinner with Mr. Julian Bond when he speaks on "Civil Rights: Yesterday, Today, and Tomorrow."