Athenaeum Location
Print Newsletter
February 7, 1991
Vol. 06, No. 06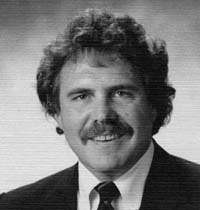 Living Dinosaurs: A Story of the Largest African Mammals
VAUGHAN LANGMAN
TUESDAY, FEBRUARY 12, 1991
The Marian Miner Cook Athenaeum is proud to welcome Dr. Vaughan Langman. Dr. Langman, who received his PhD in zoophysiology from the University of Alaska, pursues research on the biology and ecology of giraffes, black rhinoceri, and elephants of Africa.

Dr. Langman speaks fluent Swahili and Fanagallo and will share interesting and eye-opening discoveries he has made through his studies during the past 20 years. He has traveled throughout Africa, doing research and teaching in Kenya, Tanzania, South Africa, and Rhodesia. Dr. Langman has been a consultant for the translocation of rhinoceri into safe breeding areas (such as Texas farms) and has studied the energetics of walking in the largest existing terrestrial animals: the giraffe, black rhinoceros, and elephant of Africa.

Currently Dr. Langman is a professor in the Department of Biological Sciences at Louisiana State University and in the Department of Physiology at Louisiana State's medical school. Dr. Langman was previously a professor and researcher at Wellesley College and Harvard University. He has published numerous articles in scholarly journals.

Please join us for a night of discovery with Dr. Langman when he discusses and shows slides of "Living Dinosaurs: A Story of the Largest African Mammals." Your dinner reservation may be made by filling out and returning the enclosed coupon.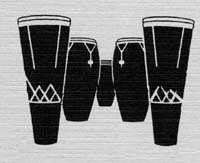 Musical Tea: The Black Experience Through Sound and Movement
ARDIS JOHNSON, drums
TABULA, dancer
TUESDAY, FEBRUARY 12, 1991
The Athenaeum is pleased to bring to campus two artists from the Watts Towers Arts Center in Los Angeles. Ardis Johnson, professional drummer, teacher, and instrument maker, will play solo drums, as well as accompany dances by Tabula. Mr. Johnson will demonstrate ethnic instrument making and invites audience participation.

Come to the Athenaeum on Tuesday, February 12, at 3:00 p.m. for this special event.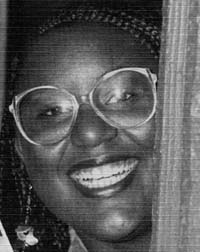 Grassroots Education in America
ALTHEA BURRELL '88
WEDNESDAY, FEBRUARY 13, 1991
The Marian Miner Cook Athenaeum welcomes back Althea Burrell for our alumni series titled "Risks and Rewards."

The crisis in American primary and secondary education has reached phenomenal proportions, with perhaps the greatest effects being felt in public schools and inner cities. Althea is an individual who has sought to effect change by actively participating in the education of her community, Watts. Graduating from CMC in 1988 as a literature major, Althea took a year off before completing her degree to teach at Jordan High, her alma mater.

Currently she works as the Watts district manager in charge of education services for World Book Encyclopedia. Her primary focus has been to get children to read, and to encourage parents to provide their children with the motivation to do so. She believes that academic interest starts with motivation from home. In addition to this job, Althea does community-based volunteer work at a counseling center for battered and alcoholic women. By teaching these women to read, Althea helps them gain new self-confidence in their abilities.

Althea Burrell has taken an unusual path as a graduate from CMC. Her recent activities bear witness to her deep concern for others and a desire to give back to her community what she feels it has given to her. Please join us for what promises to be an inspiring evening by filling out the enclosed reservation coupon. The 5:30 reception and 6:00 dinner will be followed by a 7:00 address.
National Book Critics Circle Forum
TOM DISCH
DAVID LEHMAN
M. MARK, chair
RICHARD BARNES
THURSDAY, FEBRUARY 14, 1991
The Gould Center for Humanistic Studies presents a National Book Critics Circle forum featuring David Lehman, poet and essayist, and Tom Disch, a science fiction writer known for such works as "The Brave Little Toaster." Lehman and Disch will discuss the current state of criticism, academic and popular, including the responses to science fiction and deconstruction. The program will be chaired by M. Mark, editor of the literary supplement to the Village Voice.

Each of these participants figures prominently in the critical interface between the university and the general reader. They will be joined in their commentaries by Richard Barnes, professor of English at Pomona College and a resident Claremont poet.

The program will be held at the Athenaeum at 7:00, following a reception at 5:30 and dinner at 6:00. Students, faculty, and the public are welcome.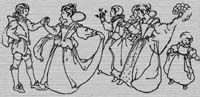 Evening in Vienna
MICHAEL DEANE LAMKIN, conductor, Claremont Chamber Orchestra
Friday, February 15, 1991 and Sunday, February 17, 1991
It is our pleasure to invite you to an evening of music, dance, and fine Viennese cuisine. Join us for dinner, a whirl around the dance floor, and the music of Johann Strauss with the Claremont Chamber Orchestra, conducted by Prof. Michael Deane Lamkin.

The festivities begin at six o'clock and will include a brief dance lesson on the waltz and the polka by Mr. Lamkin.

The menu features a served dinner of

Borscht
Green Bean and Red Pepper Salad with Vinaigrette Dressing
Chicken Paprika - Red Cabbage with Bacon - Orzo with Mushrooms

and a dessert table with

Apple Tarts
White Chocolate Mousse with Chocolate Sauce
Double Chocolate Cake with Raspberry Sauce
Viennese Café

Prices-please include your payment with your reservation

Prices for Friday, February 15-Student Night

CMC student and one guest (both with meal cards)$7.50 per person
CMC student and one guest (without meal card)$10.00 per person
CMC faculty, staff, and one guest $12.50 per person
All other students, faculty, and staff $15.00 per person

Prices for Sunday, February 17- Community Night

CMC faculty, staff, and one guest $15.00 per person
All others $20.00 per person

Please use the appropriate form for your reservation- include payment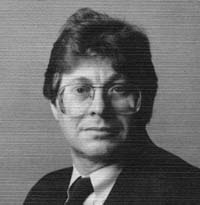 The Ethics of American Youth
MICHAEL JOSEPHSON
TUESDAY, FEBRUARY 19, 1991
Michael Josephson has been called "the locator of missing corporate souls, the fanner of the flame at the grave of the honest politician, [and] the last man you'd want to meet at the gates of heaven." Mr. Josephson is one of several speakers in "Ethics in the 1990s," a series sponsored by the Salvatori Center and organized by CMC's own Leslie Bailey and the Philosophy Colloquium.

A graduate of UCLA and the UCLA law school, Mr. Josephson was a law professor for almost 20 years at the University of Michigan, Wayne State University, and Loyola, Los Angeles. In 1987 he left academia to devote himself to the work of the Joseph & Edna Josephson Institute for the Advancement of Ethics, a public benefit, nonprofit corporation he founded in honor of his parents.

As president of the institute, Josephson actively improves the ethical quality of society by teaching and advocating principled reasoning and ethical decision making. Through its programs and publications, the institute offers today's leaders in business, government, journalism, and education practical insights into ethical issues. Josephson's philosophy focuses more on behavior than on research and theory, and emphasizes the need to reach particularly those individuals in positions of power, helping them to recognize and realize their own potential to make a positive difference in the world.

Mr. Josephson's speech, titled "The Ethics of American Youth," begins at 7:00, following a 5:30 reception and 6:00 dinner. Please return the enclosed coupon to reserve your seat for dinner.
Perspectives on the Middle East
AMIR NAVAB '93
KHALIL MOHAMMED SOODI '94
MOHAMMED ZAYED '91
WEDNESDAY, FEBRUARY 20, 1991
The outbreak of war in the Gulf has brought the Middle East to the forefront of media attention, but many in the U.S. know very little about the history, culture, and customs of its peoples. To alleviate that shortcoming, we have a valuable resource: our international students. Thus, we begin our first international student panel of the year with a discussion on the Middle East with three CMC students.

Amir Navab is a sophomore international relations/ economics major who was born and raised in Iran for eight years before he moved with his family to London. He speaks on Iranian culture and the social and historical differences between Persians and Arabs.

Khalil Mohammed Soodi is a freshman economics major. His mother is American, his father Moroccan, and he lived his entire life in Tangier before coming to CMC. He focuses on the perspectives of Middle Eastern and developing countries towards the West, as well as the Arab mentality and its conflict with Western culture.

Mohammed Zayed is a senior economics/accounting major. He came to the U.S. from Egypt at five years of age, but visits and maintains contact with the rest of his family residing in Egypt. He looks at the Moslem religion and culture, the position of Egypt in the Middle East, and Egyptian attitudes towards the West.

Each student will speak for about 15 minutes, with a question-and-answer session to follow. We encourage you to take advantage of the three different perspectives offered by asking questions about the Gulf crisis and any other relevant subject.

Remarks begin at 7:00, preceded by a 5:30 reception and a 6:00 dinner. Please fill out the enclosed reservation coupon to attend the dinner.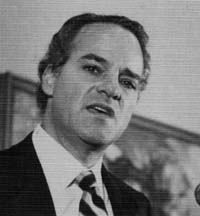 Leaders of the Future: Managing in a Smart Society
HENRY KRAVIS '67
THURSDAY, FEBRUARY 21, 1991
The Athenaeum is pleased to welcome back nationally renowned entrepreneur and alumnus Henry Kravis. A 1967 graduate, Mr. Kravis earned his MBA degree from Columbia University and went on to become one of the founding partners of Kohlberg Kravis Roberts & Co., a leading investment banking firm specializing in leveraged buyouts. His firm organized the leveraged buyouts of RJR Nabisco and Beatrice Companies, the largest in history, as well as buyouts of Safeway Stores, Owens-Illinois, and other major corporations. Mr. Kravis is counted among Forbes' 400 list of America's most affluent citizens.

Mr. Kravis' presentation comprises the keynote address for the fourth annual CMC Leadership Conference, sponsored by the Leadership Studies Program. Join Mr. Kravis at the Athenaeum for his speech, "Leaders of the Future: Managing in a Smart Society." Mr. Kravis' presentation begins at 7:00, following a 5:30 reception and 6:00 dinner.

Mr. Kravis' previous visits to the college have attracted a large audience, so return your reservation form as soon as possible to ensure your place for this event.