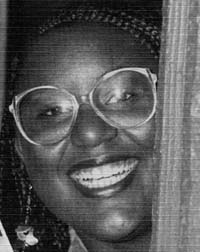 Grassroots Education in America
ALTHEA BURRELL '88
WEDNESDAY, FEBRUARY 13, 1991
The Marian Miner Cook Athenaeum welcomes back Althea Burrell for our alumni series titled "Risks and Rewards."

The crisis in American primary and secondary education has reached phenomenal proportions, with perhaps the greatest effects being felt in public schools and inner cities. Althea is an individual who has sought to effect change by actively participating in the education of her community, Watts. Graduating from CMC in 1988 as a literature major, Althea took a year off before completing her degree to teach at Jordan High, her alma mater.

Currently she works as the Watts district manager in charge of education services for World Book Encyclopedia. Her primary focus has been to get children to read, and to encourage parents to provide their children with the motivation to do so. She believes that academic interest starts with motivation from home. In addition to this job, Althea does community-based volunteer work at a counseling center for battered and alcoholic women. By teaching these women to read, Althea helps them gain new self-confidence in their abilities.

Althea Burrell has taken an unusual path as a graduate from CMC. Her recent activities bear witness to her deep concern for others and a desire to give back to her community what she feels it has given to her. Please join us for what promises to be an inspiring evening by filling out the enclosed reservation coupon. The 5:30 reception and 6:00 dinner will be followed by a 7:00 address.