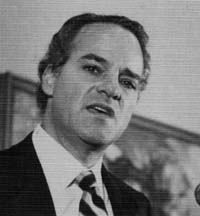 Leaders of the Future: Managing in a Smart Society
HENRY KRAVIS '67
THURSDAY, FEBRUARY 21, 1991
The Athenaeum is pleased to welcome back nationally renowned entrepreneur and alumnus Henry Kravis. A 1967 graduate, Mr. Kravis earned his MBA degree from Columbia University and went on to become one of the founding partners of Kohlberg Kravis Roberts & Co., a leading investment banking firm specializing in leveraged buyouts. His firm organized the leveraged buyouts of RJR Nabisco and Beatrice Companies, the largest in history, as well as buyouts of Safeway Stores, Owens-Illinois, and other major corporations. Mr. Kravis is counted among Forbes' 400 list of America's most affluent citizens.

Mr. Kravis' presentation comprises the keynote address for the fourth annual CMC Leadership Conference, sponsored by the Leadership Studies Program. Join Mr. Kravis at the Athenaeum for his speech, "Leaders of the Future: Managing in a Smart Society." Mr. Kravis' presentation begins at 7:00, following a 5:30 reception and 6:00 dinner.

Mr. Kravis' previous visits to the college have attracted a large audience, so return your reservation form as soon as possible to ensure your place for this event.