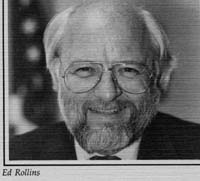 Politics 1991
PATRICK CADDELL
ED ROLLINS
WEDNESDAY, FEBRUARY 27, 1991
A lively debate between two noted political strategists has been arranged by Dr. Fred Balitzer; it is sponsored by the John Brown Cook Association.

Patrick H. Caddell is a former chief political strategist and research consultant to more than 100 congressional, gubernatorial, and presidential campaigns. Beginning in 1972, while an undergraduate at Harvard, Mr. Caddell conducted the research survey for the presidential campaign of George McGovern. Since then his clients have included the Senate campaigns of Ted Kennedy and Alan Cranston, and the gubernatorial campaigns of Mario Cuomo, Michael Dukakis, and Bob Casey.

Additionally Mr. Caddell has served as a consultant to numerous corporations, international organizations, and public interest groups. Some of his clients have included AT&T, Centrust Bank, Coca-Cola Corporation, and Amnesty International. His articles and op-ed pieces regarding contemporary American politics have appeared in the Wall Street Journal and The New York Times.

Currently serving as the co-chairman of the National Republican Congressional Committee, Ed Rollins is responsible for guiding Republican campaigns in all 435 congressional districts.

Mr. Rollins has long been known as one of America's premier political strategists. He has served in the administrations of three Republican presidents: Richard Nixon, Gerald Ford, and, most recently, Ronald Reagan. While serving as the assistant to the president for political affairs during Reagan's first term, President Reagan chose Mr. Rollins to serve as the national campaign director for his 1984 reelection-a landslide in American history, carrying 49 states for the Reagan- Bush ticket.

In addition to his success in the 1984 presidential campaign, Mr. Rollins has managed numerous political campaigns throughout the nation. He also served as the national chairman for the 1988 presidential campaign of Jack Kemp.

As author of a weekly election cycle column in the Los Angeles Times' Sunday Opinion section, Ed Rollins is sure to make a challenging partner to Pat Caddell.

If you wish to join us for the reception and dinner prior to this exciting debate, please return the enclosed form.