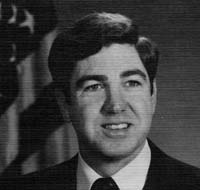 Arms Control and Political Change
RONALD LEHMAN II '68
MONDAY, MARCH 4, 1991
The Keck Center and the Marian Miner Cook Athenaeum are pleased to present Ambassador Ronald F. Lehman II, director of the U.S. Arms Control and Disarmament Agency (ACDA), as the speaker on "Arms Control and Political Change."

As the director of ACDA, Dr. Lehman serves as adviser to the president, the secretary of state, and the National Security Council on arms control; is a member of the National Space Council; routinely attends meetings between U.S. and Soviet foreign ministers; testifies regularly before the U.S. Congress; and is on the advisory board of the United States Institute of Peace.

He has previously served as the assistant secretary of defense for international security policy and as deputy assistant to the president for national security affairs. He was also the U.S. chief negotiator on strategic nuclear arms (START) at the U.S./Soviet nuclear and space arms talks in Geneva when the two sides reached agreement on the structure of the START treaty and recorded central provisions in the joint draft treaty text.

Born in Napa, California, in 1946, Ambassador Lehman graduated from Claremont McKenna College in 1968, and received his Ph.D. in government from Claremont Graduate School in 1975.

Ambassador Lehman's lecture starts at 7:00; it is preceded by a 5:30 reception and 6:00 dinner. If you wish to attend the reception and dinner, please fill out and return the reservation form.