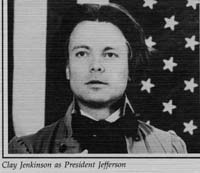 An Evening with Thomas Jefferson
CLAY JENKINSON
TUESDAY, MARCH 5, 1991
The Athenaeum is proud to present former Pres. Thomas Jefferson, as interpreted by Dr. Clay Jenkinson.

Thomas Jefferson was a man of great complexity and inexhaustible ideas, as third president of the United States, founder of the University of Virginia, author of the Declaration of Independence and the Virginia Statue for Religious Liberty, scientist, farmer, slave owner, man of letters, architect, paleontologist, linguist, political theorist, diplomat, librarian, and Utopian.

In 1984 Clay Jenkinson created an historical characterization of Jefferson, as part of an award from the National Endowment for the Humanities. Since then he has brought the life and ideas of Jefferson to school- children, members of Congress, federal judges, and general audiences on more than 1,000 occasions. In May 1988 he addressed national legislators and aides at a congressional breakfast on Capitol Hill.

Jenkinson studied English literature from 1974-77 at the University of Minnesota. As a Rhodes scholar, he studied at Oxford and earned his bachelor's, master's and doctorate in Renaissance English language and literature.

Since 1981 Jenkinson has directed the Great Plains Chautauqua, a traveling humanities tent show funded by the National Endowment for the Humanities and various state humanities councils. He also taught at Pomona College from 1981 to 1984 as an instructor in English literature and assistant American secretary for the Rhodes Scholarship Trust. In November of 1989, President Bush presented Jenkinson with the National Endowment for the Humanities' Charles Frankel Prize for exemplary work in the public humanities. Currently Dr. Jenkinson teaches Latin and Greek studies at the University of Colorado, and tours the country as our third president.

In Jenkinson's presentations he appears in costume and character to talk and answer questions from the audience. If you would like to join us for the 5:30 reception, 6:00 dinner, and 7:00 presentation, please return the enclosed reservation coupon below.