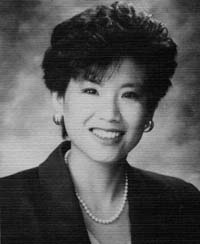 The Challenges of Ethnic Diversity
JUDY CHU
WEDNESDAY, MARCH 6, 1991
Asians in the United States have historically been much slower to develop political organizations than other ethnic minority groups. This is often attributed to discriminatory laws that prevented Asian immigrants from becoming naturalized citizens until 1952. In fact, Asian immigration was minimal until President Johnson signed the 1965 immigration law. Asian nations had previously been restricted by exclusion and quota laws dating back to the late 1800s.

In April 1990 Judy Chu was elected mayor of Monterey Park, a city in which 39 percent of the voters are Asian. She is the only Chinese-American woman mayor, and one of only two Chinese-American mayors in the United States. In November 1985 Chu had been elected to the Garvey School District Board of Education, and in April of 1988 to the Monterey Park City Council as the candidate with the highest number of votes. She is considered one of the Southland's most prominent and promising Asian politicians.

Dr. Chu has a PhD in clinical psychology, and is a professor in the psychology department at East Los Angeles College. Having taught classes in Asian- American studies at UCLA and Cal State University L.A., she has also published many articles on topics concerning Asian-Americans. She co-authored and co- edited the book, Linking Our Lives: Chinese American Women of Los Angeles (1984).

If you would like to join us for Dr. Chu's 5:30 reception, 6:00 dinner, and 7:00 address, please return the enclosed reservation coupon below.