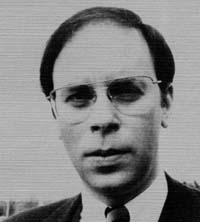 Investigating Environmental Catastrophes
HUGH KAUFMAN
TUESDAY, APRIL 9, 1991
Hugh Kaufman is one of the most authoritative, influential, and courageous speakers on the environmental crises facing the nation. One of the founders of the Environmental Protection Agency, he has served as chief investigator for hazardous sites and assistant director of hazardous site control.

Mr. Kaufman's investigations and congressional testimony led to the exposure of the 1978 Love Canal case and more than 1,000 other contamination cases. In 1982 and 1983, Mr. Kaufman's congressional testimony led to the removal of Ann Burford as head of the EPA and the imprisonment of Rita Lavelle, her assistant administrator.

As a leading environmental expert, Mr. Kaufman is often quoted by the national and international press, and has appeared on "60 Minutes," the "Today Show," and "Good Morning America." His appearances on international television include two recent British documentaries on environmental issues.

Before joining the EPA, Mr. Kaufman was a captain in the U.S. Air Force, He earned his bachelor's and master's degrees in engineering from George Washington University. Currently, Mr. Kaufman is assistant to the director of the Hazardous Site Control Division at EPA headquarters in Washington, D.C.

Please join us for what is sure to be an enlightening evening. Mr. Kaufman's presentation will begin at 7:00 p.m., preceded by a 5:30 reception and 6:00 dinner. Your dinner reservation may be made by filling out and returning the enclosed coupon.