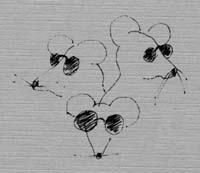 Dinner Theater
The Mousetrap by Agatha Christie
Thursday, April 11, 1991-Sunday, April 14, 1991
"Three blind mice, three blind mice. See how they run,
see how they run. They all ran after the farmer's wife..."
Under the Lights, who brought Arsenic and Old Lace (1952) and You Can't Take It With You (1936) to the Athenaeum, is
now pleased to invite you to get caught in The Mousetrap (1952), Agatha Christie's tale of murder, mayhem, and
madcap hilarity. Join the guests at snowed-in Monkswell Manor as the persistent Sergeant Trotter
encounters a diverse array of the eccentric and the abnormal as he attempts to glean the truth and expose
the perpetrator of two murders. Motive can be misleading-who is guilty? Is it the forward and macho
Paravicini, or is it the straight-laced and reserved Giles? Perhaps it is the severe Miss Casewell, or maybe the
level-headed Mollie, the least likely of criminals? Please join the cast and crew of The Mousetrap (1952) at the
Athenaeum on April 11, 12, and 13 for dinner, or April 14 for brunch.
Prices for Dinner Theater
CMC student with meal card $7.50
CMC student, faculty, and staff without meal card $10.00
Each CMC person may bring one guest at the discounted rate:
Guest with meal card $7.50
Guest without meal card $10.00
All other students, faculty, and staff $12.50
(a limit of two tickets at this price)
Community persons and all others $15.00
Play only $3.00