Athenaeum Location
Print Newsletter
April 15, 1991
Vol. 06, No. 10
Musical Tea: Octapella
MONDAY, APRIL 15, 1991 3:00 p.m.
Enjoy some sweet harmony along with your tea at the Athenaeum on Monday afternoon, April 15th. "Octapella," a new vocal ensemble on campus, consists of eight young men from CMC, HMC, and Pitzer. They describe themselves as a barbershop type group and will perform a mixed program of barbershop harmony and popular songs. Having spent the semester rehearsing, they are in fine form for this event. Please come for tea and linger awhile for this special musical treat.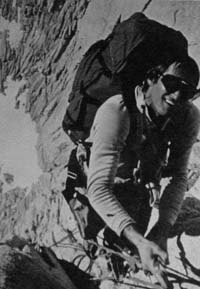 Each Person Makes a Difference
MICHAEL GRABER '74
TUESDAY, APRIL 16, 1991
The Marian Miner Cook Athenaeum is proud to welcome back Michael Graber '74, one of America's leading alpinists. Graber has pioneered numerous first ascents, including two in Antarctica, and is a two-time veteran of Mt. Everest. In 1987 he climbed to 28,000 feet, 1,000 feet short of Everest's summit, before he was forced to turn back by 100 m.p.h. winds and frostbite. In addition to his climbing record, Graber is a seasoned Antarctic explorer and filmmaker. Award-winning films such as "Ski to Forbidden Plateau" (ABC Sports), "Antarctic Odyssey" (ABC Sports) (1988), and "Trans- Antarctic Expedition" (an ABC series) demonstrate his skills in filming under extreme conditions.

During 1983 he filmed the war in Afghanistan for "CBS Evening News with Dan Rather" and his "Battle for Afghanistan," an hour-long CBS News special, received an Emmy Award in 1988.

Graber graduated in 1974 with a B.A. in philosophy. He received the Most Valuable Player Award during his senior year for his achievements as a Stag running back and is rumored to have scaled the outside of a tower dorm without a rope. The personal philosophy that has motivated Graber's adventures is that the road one wants to travel in life is attainable through hard work and careful planning. Please join us for what promises to be an inspirational dinner and discussion by filling out the enclosed reservation coupon.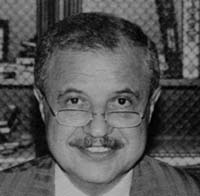 The Need for an Arab Marshall Plan
TALAL ABU-GHAZALEH P'87, P'87, P'92
WEDNESDAY, APRIL 17, 1991
The end of the war in the Persian Gulf has brought renewed attention to the prospects of Middle East recovery and development. What form should U.S. participation take in the rebuilding of Iraq and Kuwait? Can future conflict in the Middle East be avoided through a long-term plan to aid the economic development of the entire region? The Athenaeum is proud to present a most qualified speaker, Talal Abu-Ghazaleh, to help us answer these questions. He will talk on "The Need for an Arab Marshall Plan." Mr. Abu-Ghazaleh was born in Jaffa, Palestine, and is a citizen of Jordan. He received his BBA degree from the American University of Beirut and has gone on to become an international leader in the consulting and accounting industries.

Abu-Ghazaleh is the founder and present chairman of the board of directors of Talal Abu-Ghazaleh International (TAGI), U.K., the largest holding company for professional firms in the Arab world, operating in 30 offices throughout the Middle East. Between 1974 and 1980, Abu-Ghazaleh was the chairman of the joint firm Price Waterhouse Abu-Ghazaleh & Co. and a partner in Price Waterhouse International. In addition, he is the recipient of numerous awards, including an honorary PhD of Humane Letters from Canisius College in New York, decoration from the Republic of Tunisia, and knighthood from the French Legion of Honor.

Please join us for this timely event by filling out the enclosed reservation coupon. The talk will begin at 7:00, preceded by a 5:30 reception and a 6:00 dinner.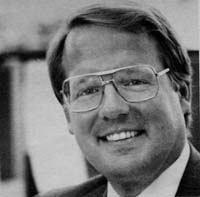 Global Ethics
RUSHWORTH KIDDER
THURSDAY, APRIL 18, 1991
The Marian Miner Cook Athenaeum and the Salvatori Center are very proud to once again welcome Rushworth Kidder to Claremont McKenna College. Mr. Kidder first visited the Ath in October 1989 as part of the Soviet Union series. Currently, he is on leave of absence from The Christian Science Monitor, where as a senior columnist he writes the paper's weekly "perspective" column on social issues and trends. In June 1990 he set up an ethics think-tank. The Institute for Global Ethics, a non-profit organization dedicated to the study of ethics in an international context.

Mr. Kidder and a network of journalists and academicians from around the world are tracking shifts in values on an international scale. Some of the value-centered issues the institute will be focusing upon are corruption in Mexico, Japanese attitudes towards the work ethic, and the changing role of women in the Islamic world.

Mr. Kidder spent time as a professor of English at Wichita State University in Wichita, Kansas, before joining The Monitor. He is also the author of two books on literature: Dylan Thomas: The Country of the Spirit (1973) and E.E. Cummings: An Introduction to the Poetry (1979). His latest book, An Agenda for the 21st Century (1987), grew out of a Monitor series for which he interviewed 22 leading thinkers around the world.

In conjunction with his research with The Institute for Global Ethics, he is writing a book titled Global Ethics: Common Values for a Shrinking World. Mr. Kidder's address is the last in a series entitled, "Ethics in the 1990s" which has been sponsored during the spring semester by the Salvatori Center of Claremont McKenna College. Please use the reservation form to sign up for the reception and dinner prior to the 7:00 address.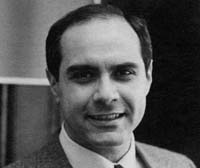 Europe and the Americas
ENRICO MARIO SANTI
TUESDAY, APRIL 23, 1991
The Family of Benjamin Z. Gould Center for Humanistic Studies proudly welcomes Enrico Mario Santi to CMC. Professor Santi's Athenaeum address will deal with the question of the largely imaginary relationship of Europe (understood in the broader cultural sense that includes the U.S.) with Latin America, the stereotypes and fixed ideas attendant to that imaginative body, and its impact on the teaching of Latin American culture and literature in the American academy today.

Dr. Santi is professor of Spanish and Latin American Literatures and associate director for Humanities Development in the Latin American Studies Program at Georgetown University. A renowned authority on modern Hispanic poetry, Cuban culture and literature, and Latin American narrative, he has authored, among other books, Pablo Neruda: The Poetics of Prophecy (1982); The Emergence of Cuban National Identity (1986); and Escritura y tradicion: texto, critica y poetica en la literatura hispano- americana (1988). He is currently at work on Rights of Poetry: An Intellectual Biography of Octavio Paz and Por una politeratura, essays on the relations between literature and politics in Latin America.

A past Guggenheim and Woodrow Wilson fellow, Dr. Santi has lectured at many colleges and universities in North, South, and Central America and Europe. He is also a winner of the Clark Distinguished Teaching Award, the highest honor conferred at Cornell University's Arts College.

The Gould Center is pleased to invite to Dr. Santi's lecture any students, faculty, or other members of the community interested in hearing a talk that promises to provide much food for thought on some very timely literary, intellectual, and political issues. Please use the enclosed coupon if you wish to attend the 5:30 reception and 6:00 dinner. Dr. Santi's address begins at 7:00.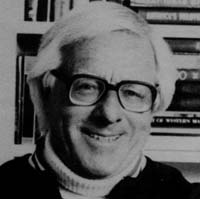 Creativity in the Next 100 Years
RAY BRADBURY
WEDNESDAY, APRIL 24, 1991 3:00 p.m. McKenna Auditorium
Ray Bradbury began writing at the age of 12, influenced by Edgar Allen Poe, Wilikie Collins, The Wizard of Oz (1939), and Buck Rogers. He made a promise to himself that if he did not sell anything by the time he was 21, he would quit. Fortunately for us, he had a story published in Weird Tales on his 21st birthday in 1941. Since then Mr. Bradbury has published more than 400 short stories, 23 novels, and numerous collections of stories and poetry. He is often dubbed "the world's greatest science fiction writer."

His books include The Martian Chronicles (1950), The Machines Of Joy (1988), Fahrenheit 451 (1953), and The Illustrated Man (1990). In addition, he has written several screenplays, including It Came from Outer Space (1953), The Picasso Summe (1957), I Sing the Body Electric (1969), and Something Wicked This Way Comes (1983). His articles have appeared in numerous magazines, such as The New Yorker, LIFE, Mademoiselle, Harper's, The New Republic, and Shenandoah, as well as Super Science Stories and Weird Tales.

In addition to his literary accomplishments, Mr. Bradbury founded the Pandemonium Theater and was the creative force behind Spaceship Earth at Disney World's EPCOT Center in Florida. He has also been asked to help design a 21st century city to be built near Tokyo.

Mr. Bradbury's speech is titled "Creativity in the Next 100 Years." Please note that this address is at 3:00 p.m. in McKenna Auditorium and is open to everyone.
The Great Years Ahead
RAY BRADBURY
WEDNESDAY, APRIL 24, 1991
As a renowned author and futurist, Mr. Bradbury has very appropriately been named the senior class dinner speaker. His positive and enthusiastic outlook on life and the future is sure to be a delight and inspiration to us all. His address is titled "The Great Years Ahead."

Seniors who would like to attend the dinner preceding Mr. Bradbury's speech are encouraged to fill out and return the enclosed coupon. There will be a 5:30 reception, 6:00 dinner, and 7:00 presentation. Please note that this is a special event for CMC seniors.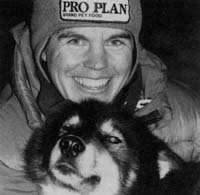 An Evening with Susan Butcher
SUSAN BUTCHER
GRANITE
THURSDAY, APRIL 25, 1991
Dogsled racer Susan Butcher is one of the most adventurous, enthusiastic, tenacious, and successful women in America today. Ms. Butcher is the four-time winner of Alaska's grueling Iditarod dogsled race, a 1,158-mile trek across snow-covered central Alaska. The race record is 11 days, 1 hour, and 53 minutes, and it belongs to Susan Butcher.

In her thirteen Iditarod races since 1978, Ms. Butcher has placed in the top 10 eleven times, with three 2nd place and four 1st place finishes (two of which were record-breaking). In addition to being the first person to win three consecutive Iditarods, Ms. Butcher holds many other records for shorter races such as the Beargrease, the Coldfoot, and the Kusko. In all of her 18 long-distance races since 1984, she placed 1st ten times, 2nd seven times, and 3rd once. In addition, she and a fellow musher were the first and only people to take a dog team to the summit of Mt. McKinley, North America's highest peak, at 20,320 feet.

Recently, Ms. Butcher was named one of the Ten Outstanding Young Americans by the United States Junior Chamber of Commerce for her personal accomplishments and civic contributions. Her achievements have also been recognized by both former President Reagan and President Bush.

As a professional "musher," dog breeder and trainer, and veterinary technician, Ms. Butcher lives with her husband, a lawyer and musher, 140 miles northwest of Fairbanks with their 150 Alaskan huskies. Susan will be accompanied on her visit to CMC by her lead dog, Granite.

Please join us at the Athenaeum for what is sure to be an evening filled with adventure. As a special tribute to Ms. Butcher, dinner will include Alaskan delicacies including King Crab, salmon, and strawberry rhubarb pie. To reserve your space for the 6:00 dinner, please fill out and return the enclosed coupon. This special dinner is reserved for CMC students, faculty, and staff; however, the 7:00 presentation is open to all.
Musical Tea: The Scott Rudmann Saxophone Quartet
EMILIO LAZARIN '94, alto saxophone
JASON MAHEN, tenor saxophone
PAMELA RINO, baritone saxophone
SCOTT RUDMANN '93, alto saxophone
THURSDAY, APRIL 25, 1991
Take a break from your studies and drop by for tea on Thursday, April 25. The Scott Rudmann Saxophone Quartet will be performing from 3 p.m. to 4:30 to provide Athenaeum tea-goers with an especially relaxing atmosphere. Works by many famous composers will be performed, in both classical and jazz styles. Please join us for this special tea.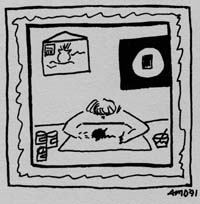 Bringing Together Separate Peaces
ANNE MARIE D'AGOSTINO '91
THURSDAY, MAY 2, 1991
The Athenaeum is proud to present Anne Marie D'Agostino's senior show. Anne Marie is currently a studio-art major readying herself for the world of exhibitions. She will be presenting works she has completed during the last four years in painting, sculpture, mixed media, and the book arts. As an extra surprise, the Athenaeum Dessert Cookbook will be on sale for a price of $20.00. The Cookbook is a collaboration between Anne Marie and our own wonderful dessert artist, Jackie Hawkins. Anne Marie will also be making some of her unique work available for purchase. The show begins at 7:00 p.m., with live music and hors d'oeuvres until 10:00 p.m. See You There!
Director's Report
JIL STARK
This is our final Fortnightly of the 1990-91 college year. The Athenaeum has hosted a rich variety of speakers, beginning in September with the noted economist John Kenneth Galbraith, and ending in April with the accomplished athlete Susan Butcher and her Iditarod lead dog, Granite.

We have hosted nine series. The Athenaeum sponsored "Women in the 1990s," "Saving our Environment," and "Risks and Rewards." "The Gould Center sponsored "Diversity: The History of an Idea in America" and "Public Figures and the Humanities," as well as a number of individual speakers. The Keck Center organized "The United States and Europe in the 1990s" and "Changing Power in the Global Economy." (The latter was sponsored by the Keck Institute and the Lowe Institute and will continue in 1991-92.) The Salvatori Center sponsored "Ethics in the 1990s" and the Dean of Students Office sponsored "Asian American Perspectives." We all appreciate the generosity and time commitment of these sponsoring groups. The John Brown Cook Association hosted Lyn Nofziger, Ed Rollins, and Pat Cadell who presented a panel discussion on February 27, the day Desert Storm ended.

During the year our 72 speakers have included Homeric scholar Donald McKenna, Christopher Childs of Greenpeace, safer sex advocate Suzanne Landolphi, scientist Helen Caldicott, photographer Galen Rowell, author and professor Shelby Steele and his twin brother psychologist Claude Steele, philosopher Cornel West, jazz musician Ray Drummond '68, activist Julian Bond, New Yorker writer Paul Brodeur, ethicist Michael Josephson, entrepreneur Henry Kravis '67, Ambassador Ronald Lehman '68, water expert Marc Reisner, political philosopher Francis Fukuyama, EPA leader Hugh Kaufman, and author Ray Bradbury.

I hope you have taken advantage of the opportunity to hear and question our guests. I hope you have attended a few of our musical events, Madrigal, Mozart's Bi-Centennial, Americana Festival, Celtic Twilight, and Evening in Vienna. Were you able to see your fellow students direct, produce, and act in The Mousetrap (1952) or attend the student art show?

To our three senior fellows, Barbara Clark, Gena Morgan, and LaTanya Wright, I say many thank yous for your marvelous Fortnightly articles, your organizational skills, and your dedicated spirit. As you know, many students help prepare our meals, serve these meals, and clean up after the meals. This group of more than 70 CMC students is managed by Tiffany Nemer, and we thank her and all our student employees. This has been a wonderful year thanks to each of you and to all the other students, faculty, and staff of CMC who have suggested speakers and who have attended our Athenaeum events, class dinners, open forum lunches, and our daily teas.

Next year's programs will begin on September 12. Our series so far will include "Southern California: The State of the State," and "The Middle East After the Gulf War." Please join me with your suggestions for another intellectually stimulating and delicious year at the Marian Miner Cook Athenaeum.