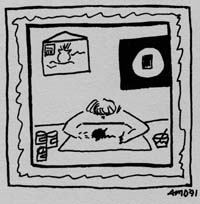 Bringing Together Separate Peaces
ANNE MARIE D'AGOSTINO '91
THURSDAY, MAY 2, 1991
The Athenaeum is proud to present Anne Marie
D'Agostino's senior show. Anne Marie is currently
a studio-art major readying herself for the world of
exhibitions. She will be presenting works she has
completed during the last four years in painting,
sculpture, mixed media, and the book arts. As an extra
surprise, the Athenaeum Dessert Cookbook will be on
sale for a price of $20.00. The Cookbook is a collaboration between Anne Marie and our own wonderful
dessert artist, Jackie Hawkins. Anne Marie will also be
making some of her unique work available for purchase.
The show begins at 7:00 p.m., with live music and hors
d'oeuvres until 10:00 p.m. See You There!