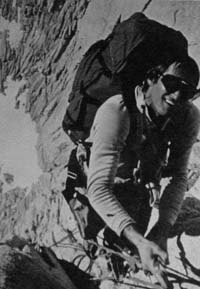 Each Person Makes a Difference
MICHAEL GRABER '74
TUESDAY, APRIL 16, 1991
The Marian Miner Cook Athenaeum is proud to welcome back Michael Graber '74, one of America's leading alpinists. Graber has pioneered numerous first ascents, including two in Antarctica, and is a two-time veteran of Mt. Everest. In 1987 he climbed to 28,000 feet, 1,000 feet short of Everest's summit, before he was forced to turn back by 100 m.p.h. winds and frostbite. In addition to his climbing record, Graber is a seasoned Antarctic explorer and filmmaker. Award-winning films such as "Ski to Forbidden Plateau" (ABC Sports), "Antarctic Odyssey" (ABC Sports) (1988), and "Trans- Antarctic Expedition" (an ABC series) demonstrate his skills in filming under extreme conditions.

During 1983 he filmed the war in Afghanistan for "CBS Evening News with Dan Rather" and his "Battle for Afghanistan," an hour-long CBS News special, received an Emmy Award in 1988.

Graber graduated in 1974 with a B.A. in philosophy. He received the Most Valuable Player Award during his senior year for his achievements as a Stag running back and is rumored to have scaled the outside of a tower dorm without a rope. The personal philosophy that has motivated Graber's adventures is that the road one wants to travel in life is attainable through hard work and careful planning. Please join us for what promises to be an inspirational dinner and discussion by filling out the enclosed reservation coupon.