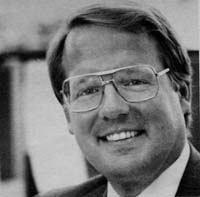 Global Ethics
RUSHWORTH KIDDER
THURSDAY, APRIL 18, 1991
The Marian Miner Cook Athenaeum and the Salvatori Center are very proud to once again welcome Rushworth Kidder to Claremont McKenna College. Mr. Kidder first visited the Ath in October 1989 as part of the Soviet Union series. Currently, he is on leave of absence from The Christian Science Monitor, where as a senior columnist he writes the paper's weekly "perspective" column on social issues and trends. In June 1990 he set up an ethics think-tank. The Institute for Global Ethics, a non-profit organization dedicated to the study of ethics in an international context.

Mr. Kidder and a network of journalists and academicians from around the world are tracking shifts in values on an international scale. Some of the value-centered issues the institute will be focusing upon are corruption in Mexico, Japanese attitudes towards the work ethic, and the changing role of women in the Islamic world.

Mr. Kidder spent time as a professor of English at Wichita State University in Wichita, Kansas, before joining The Monitor. He is also the author of two books on literature: Dylan Thomas: The Country of the Spirit (1973) and E.E. Cummings: An Introduction to the Poetry (1979). His latest book, An Agenda for the 21st Century (1987), grew out of a Monitor series for which he interviewed 22 leading thinkers around the world.

In conjunction with his research with The Institute for Global Ethics, he is writing a book titled Global Ethics: Common Values for a Shrinking World. Mr. Kidder's address is the last in a series entitled, "Ethics in the 1990s" which has been sponsored during the spring semester by the Salvatori Center of Claremont McKenna College. Please use the reservation form to sign up for the reception and dinner prior to the 7:00 address.