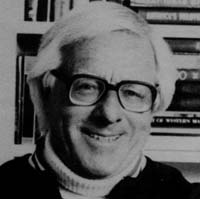 Creativity in the Next 100 Years
RAY BRADBURY
WEDNESDAY, APRIL 24, 1991 3:00 p.m. McKenna Auditorium
Ray Bradbury began writing at the age of 12, influenced by Edgar Allen Poe, Wilikie Collins, The Wizard of Oz (1939), and Buck Rogers. He made a promise to himself that if he did not sell anything by the time he was 21, he would quit. Fortunately for us, he had a story published in Weird Tales on his 21st birthday in 1941. Since then Mr. Bradbury has published more than 400 short stories, 23 novels, and numerous collections of stories and poetry. He is often dubbed "the world's greatest science fiction writer."

His books include The Martian Chronicles (1950), The Machines Of Joy (1988), Fahrenheit 451 (1953), and The Illustrated Man (1990). In addition, he has written several screenplays, including It Came from Outer Space (1953), The Picasso Summe (1957), I Sing the Body Electric (1969), and Something Wicked This Way Comes (1983). His articles have appeared in numerous magazines, such as The New Yorker, LIFE, Mademoiselle, Harper's, The New Republic, and Shenandoah, as well as Super Science Stories and Weird Tales.

In addition to his literary accomplishments, Mr. Bradbury founded the Pandemonium Theater and was the creative force behind Spaceship Earth at Disney World's EPCOT Center in Florida. He has also been asked to help design a 21st century city to be built near Tokyo.

Mr. Bradbury's speech is titled "Creativity in the Next 100 Years." Please note that this address is at 3:00 p.m. in McKenna Auditorium and is open to everyone.