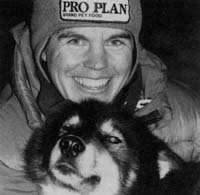 An Evening with Susan Butcher
SUSAN BUTCHER
GRANITE
THURSDAY, APRIL 25, 1991
Dogsled racer Susan Butcher is one of the most adventurous, enthusiastic, tenacious, and successful women in America today. Ms. Butcher is the four-time winner of Alaska's grueling Iditarod dogsled race, a 1,158-mile trek across snow-covered central Alaska. The race record is 11 days, 1 hour, and 53 minutes, and it belongs to Susan Butcher.

In her thirteen Iditarod races since 1978, Ms. Butcher has placed in the top 10 eleven times, with three 2nd place and four 1st place finishes (two of which were record-breaking). In addition to being the first person to win three consecutive Iditarods, Ms. Butcher holds many other records for shorter races such as the Beargrease, the Coldfoot, and the Kusko. In all of her 18 long-distance races since 1984, she placed 1st ten times, 2nd seven times, and 3rd once. In addition, she and a fellow musher were the first and only people to take a dog team to the summit of Mt. McKinley, North America's highest peak, at 20,320 feet.

Recently, Ms. Butcher was named one of the Ten Outstanding Young Americans by the United States Junior Chamber of Commerce for her personal accomplishments and civic contributions. Her achievements have also been recognized by both former President Reagan and President Bush.

As a professional "musher," dog breeder and trainer, and veterinary technician, Ms. Butcher lives with her husband, a lawyer and musher, 140 miles northwest of Fairbanks with their 150 Alaskan huskies. Susan will be accompanied on her visit to CMC by her lead dog, Granite.

Please join us at the Athenaeum for what is sure to be an evening filled with adventure. As a special tribute to Ms. Butcher, dinner will include Alaskan delicacies including King Crab, salmon, and strawberry rhubarb pie. To reserve your space for the 6:00 dinner, please fill out and return the enclosed coupon. This special dinner is reserved for CMC students, faculty, and staff; however, the 7:00 presentation is open to all.