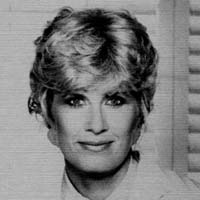 Dating and Mating
THERESA CRENSHAW P'94
THURSDAY, SEPTEMBER 19, 1991
Dr. Theresa Crenshaw graduated from Stanford University and the University of California at Irvine medical school. She then continued her training at the Masters and Johnson Institute in St. Louis, Missouri. She founded the Crenshaw Clinic, one of the largest sex therapy clinics in the nation, in 1975. She was president of the American Association of Sex Educators, Counselors, and Therapists (AASECT), as well as founder of the AASECT AIDS Task Force. In July of 1987 President Reagan appointed her to his presidential commission on the Human Immunodeficiency Virus (HIV).

Dr. Crenshaw is president and founder of the Ehrenborg Foundation, a non-profit organization dedicated to the prevention of HIV infection. She has worked at the national and grassroots levels to educate the public about AIDS. Often she works through the media to reach the people, including appearances on the "Phil Donahue Show" and "Good Morning, America," as well as articles in the Saturday Evening Post. The two AIDS Awareness Day programs she developed won Golden Mike Awards and an International Gold Medal in New York.

Her most recent book, Bedside Manners: Your Guide to Better Sex (1983), was a Book-of-the-Month-Club selection and an international best-seller. Dr. Crenshaw will present her talk, "Dating and Mating," this month. Later this semester she will give a speech titled "Making Commitments."

Join us for an undoubtedly stimulating evening by returning the enclosed reservation form. Dinner will begin at 6:00 and remarks will commence at 7:00.